This free printable Halloween crossword puzzle is a spooky and fun activity for kids to work on during this upcoming Halloween season.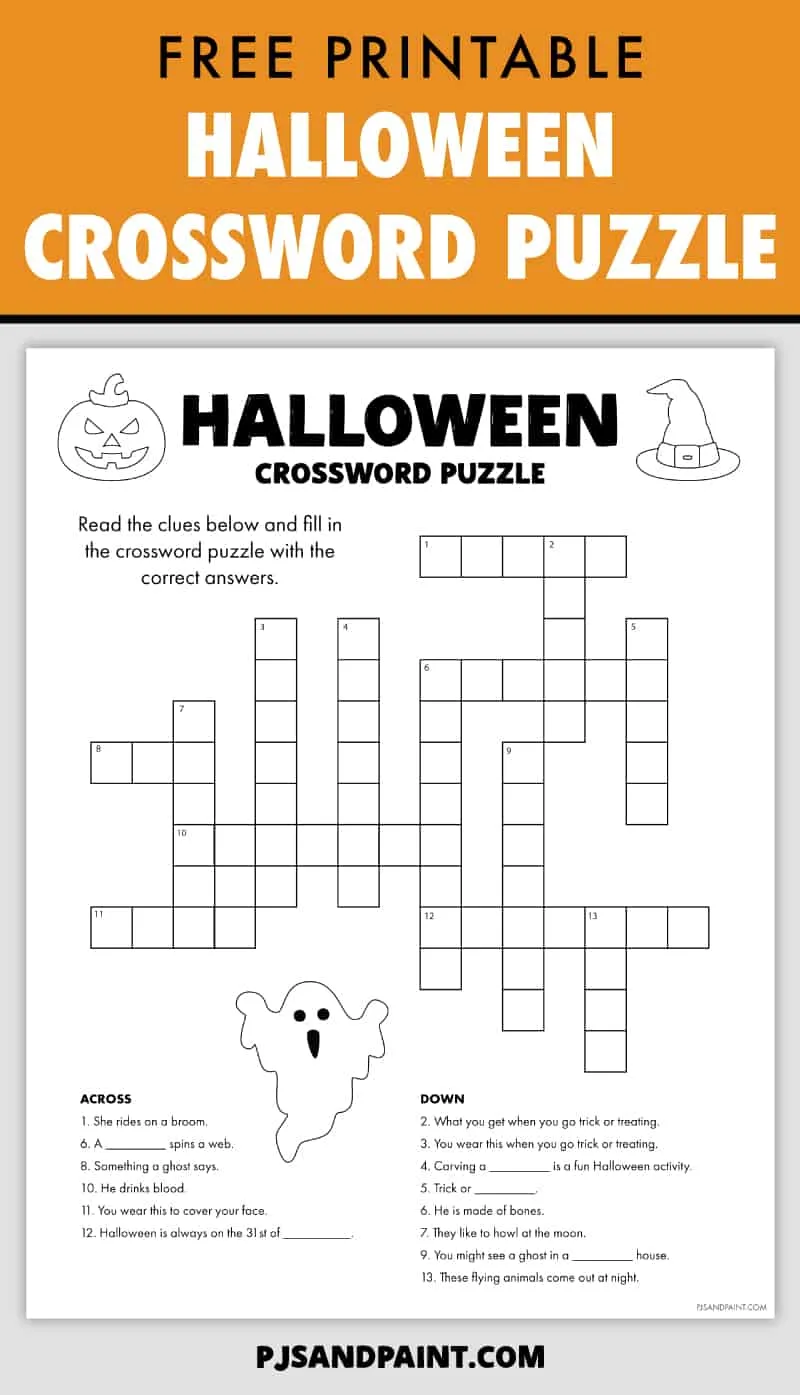 Disclaimer: This post contains Amazon affiliate post. This means that at no extra cost to you, I may earn a small commission if you decide to make a purchase.
This free printable Halloween crossword puzzle features 13 clues to help you fill in the puzzle below. It is a great activity for the classroom, a holiday party or simply something to do at home on a rainy day in October.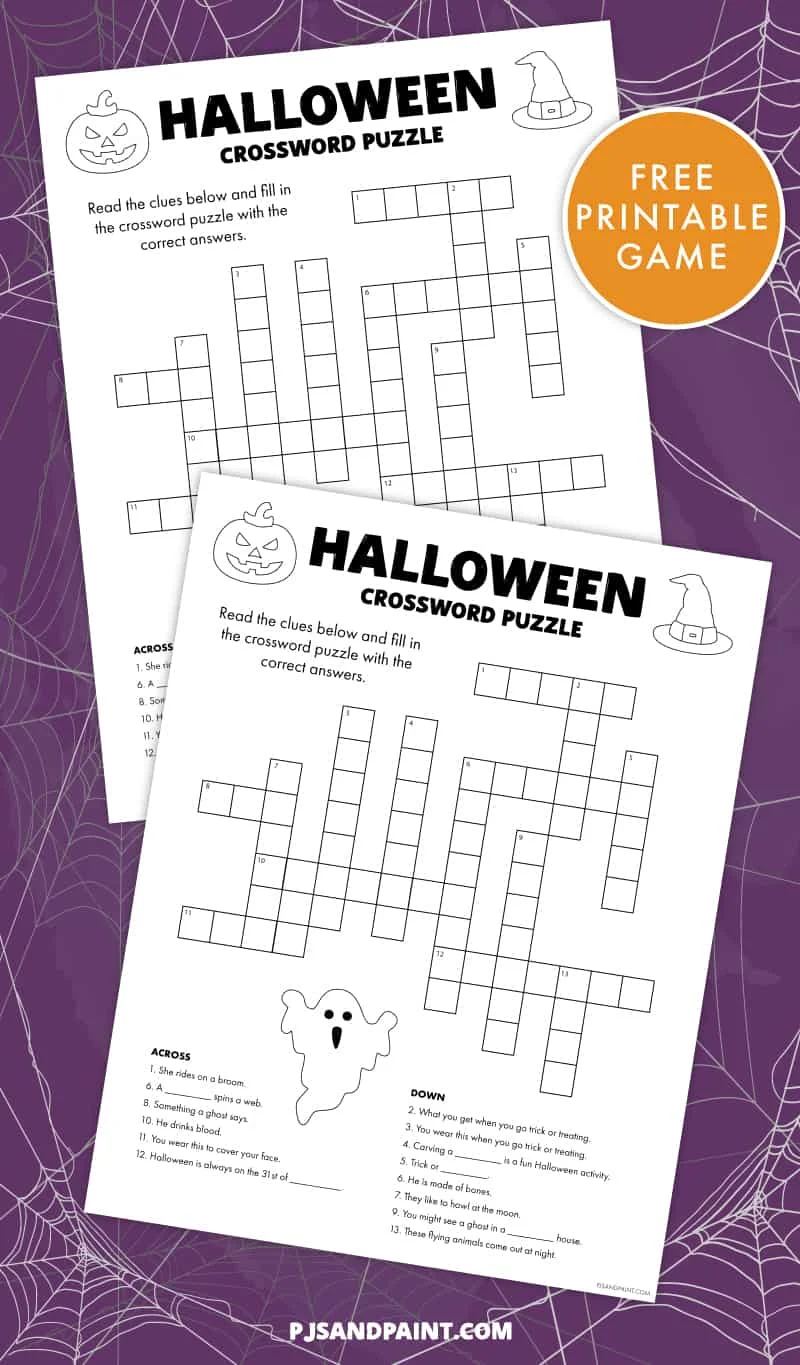 Free Printable Halloween Crossword Puzzle
This Halloween crossword puzzle is designed to print onto a standard 8.5×11 inch piece of paper or cardstock.
Feel free to download and print as many copies of the crossword puzzle as you would like. However, please do not edit or redistribute the files in any way. This puzzle is intended for personal or classroom use only.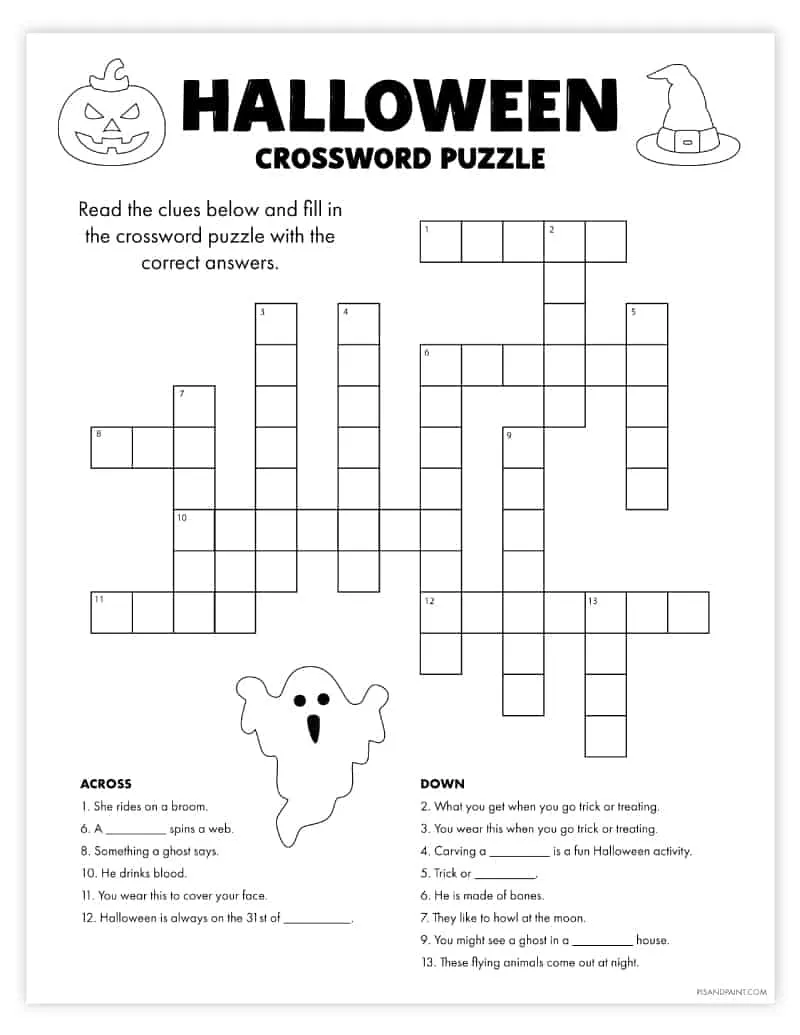 How to make your crossword puzzle reusable:
If you are planning on using this Halloween crossword puzzle at a yearly holiday party or classroom activity, you may wish to reuse the games year after year. If so, I would highly recommend using a home lamination machine.
This is the home lamination machine I have and I absolutely love it! I look for any excuse I can to laminate something. All you need to do is run the crossword puzzle through the laminator and then use dry erase markers to fill in the answers to the puzzle. Simply wipe off the answers when you are done and use again next October!
If you don't have access to a home lamination machine, you can also use these really cool dry erase pockets. All you have to do is print out the crossword puzzle, slip the page inside the pocket and use dry erase markers to fill in the puzzle.
If you enjoyed this crossword puzzle you might like to check out some of our other fun free printable Halloween games and activities:
Halloween word search:
Get into the Halloween spirit this year with this fun free printable Halloween word search. Featuring 15 Halloween themed words to search for, kids and adults alike will have a blast working on this spooky word game.
Halloween word scramble:
This free printable game features 12 Halloween themed words to try and unscramble. With long and short words, both kids and adults will find this game super fun and challenging as well.
How many words can you make from Halloween:
In this fun game, you have to see how many different words you can make using only the letters that are found in the word Halloween. Challenge yourself and see how many words you are able to come up with. You can also incorporate a scattergories element to add a fun and competitive twist.
Halloween maze:
Work your way through this fun Halloween maze to reach the spooky pumpkin in the center. Mazes are the perfect activity to play in the classroom, at holiday parties or simply something fun to do with the kids on a rainy day in October.
Halloween I Spy Game:
Kids will have a great time searching for 8 Halloween themed pictures in the box above. The object of the game is to count how many of each type of image you can find and write down the correct number on the lines next to each image. You can even have your kids color in each pictures as they go along. This not only will help them keep track of their counting and also allow them to get a little creative!
Answer Key:
Across
1. Witch
6. Spider
8. Boo
10. Vampire
11. Mask
12. October
Down
2. Candy
3. Costume
4. Pumpkin
5. Treat
6. Skeleton
7. Haunted
13. Bats

Halloween Crossword Puzzle Download Link:
Download the free printable Halloween crossword puzzle.