This free printable I spy Halloween game features pumpkins, witches hats, skulls, candy corn and more It is great for kids of all ages and is the perfect spooky activity to get everyone into the Halloween spirit this year.
This year has been pretty crazy to say the least. With everything that has been going on in the country and the world, a lot of special occasions have been cancelled or rescheduled until next year. And unfortunately this includes holidays!
My parents always host a large Easter breakfast and egg hunt with all of their neighbors. (Yes, I know that I am talking about Easter during a Halloween post but stay with me here!)
We would all get together, have bagels, yummy pastries, quiche and desserts. The kids run around collecting eggs filled with candy and everyone chats and catches up with one another. It is always a really fun morning.
Unfortunately due to the recent circumstances, they had to cancel. We tried our best to make Easter as fun for our kids as possible but it really wasn't the same. I don't think anyone expected the current situation to make as much of an impact as it has, and we weren't prepared with a "plan B" for Easter this year.
That being said, Halloween is just about three months away from when I am writing this post. Thankfully, things here have been starting to get back to "normal" and it has become a little bit safer to return to our previous actives (with plenty of extra precautions now!).
I am hoping that the trend of reopening continues upward and Halloween time is more or less, back to how things used to be. But if not, I wanted to make sure I was prepared with some fun activities to make sure Halloween was as fun as possible for the kids.
And so today I wanted to share one of my fun free I Spy Halloween printable games. Printable games are a great way to get in the holiday spirit while staying safe and staying at home. Of course it is also great for playing at a Halloween party or in the classroom in the future when things return back to normal. Hopefully if you are reading this in the future, that is already the case!
If you are a frequent reader of Pjs and Paint, you may have seen last years I spy Halloween game. If not you can check it out here. While they are somewhat similar, I wanted to create a second version this year with some new fun spooky characters included!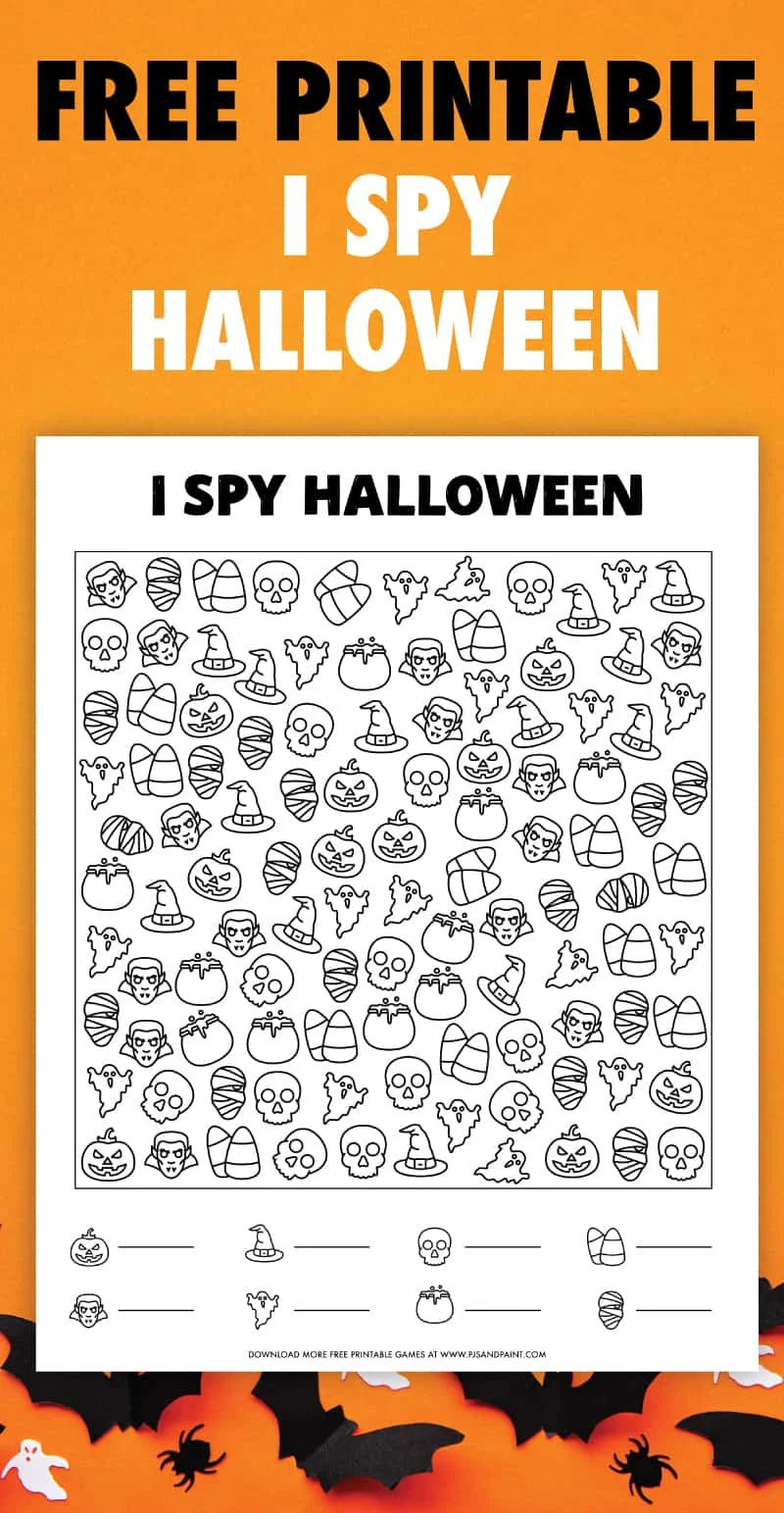 How do you play I spy?
I know when I first think of the game I spy, I think of long car rides with my parents when I was younger. My mom would say, " I spy with my little eye…. something that is… blue!" And then my brothers and I would call out various blue items or cars we saw as we passed by.
This version of I spy is a little different! The goal here is to count how many of each image you see in the box above and then write down the correct number on the spaces below.
In this I spy Halloween game you will be searching for:
pumpkins
witches hats
skulls
candy corn
vampires
ghosts
witches cauldrons
mummies
Here are a few ways you can make the I spy game more fun, creative and a little bit easier!
Color in each item as you count it
Cross off with an X each item as you count it
Circle each item as you count it, maybe with different colored pencils or markers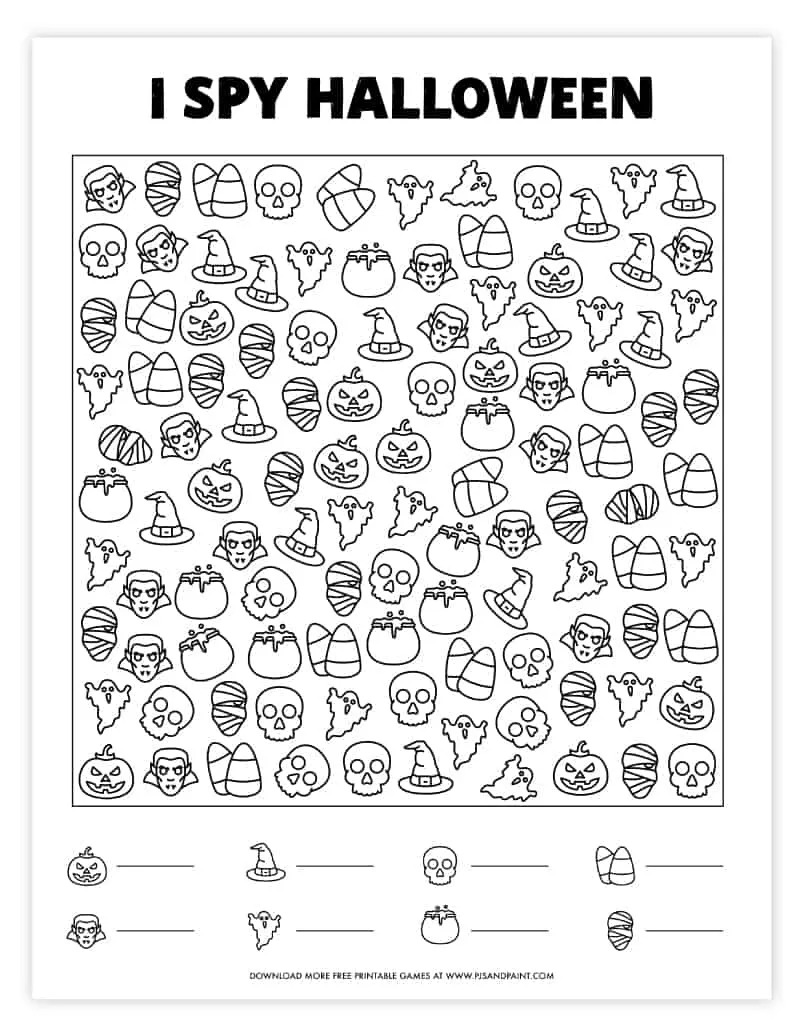 If you enjoyed this post, you may also like to check out some of our other fun free printable Halloween games and activities below:
Halloween Bingo – Free Printable Halloween Bingo Cards
This free printable Halloween bingo is a great game to play to get everyone into the spooky spirit! Kids and adults alike will have a blast playing this classic bingo game with a fun Halloween twist. This would even make a great activity to play in a classroom with students or during a holiday party.
Free Printable Halloween Crossword Puzzle
This free printable Halloween crossword puzzle features 13 clues to help you fill in the puzzle below. It is a great activity for the classroom, a holiday party or simply something to do at home on a rainy day in October.
Free Printable Halloween Maze
Work your way through this free printable Halloween maze to reach the spooky jack-o-lantern at the center. Mazes are great for holiday parties, classroom activities or simply something fun to do with the kids on rainy days.
Free Printable Halloween Word Search
Get in the spooky spirit with this free printable Halloween word search. Featuring 15 Halloween themed words to find, kids and adults alike will have a great time working on this holiday activity.

I spy Halloween Download Links:
Click here to download the I Spy Halloween game.