One fun way to make Christmas Day even more special for your kids is to include free printable Santa gift tags to all the presents under the tree.
When I was growing up, my brothers and I always assumed that Santa came down our chimney Christmas Eve, with all of our gifts in tow. In most holiday movies we would watch, that is where Santa would come into the house.
But not every home has a fireplace and that may cause some concern for children not knowing how Santa will get into their house. My own home now doesn't have a fireplace and I know soon enough that question is going to be coming from my kids as well.
And so I wanted to create a fun gift tag that not only adds a bit more magic to Christmas morning, but also explains how Santa was able to get into the house!
These tags are also signed by Santa and feature the official North Pole stamp of approval.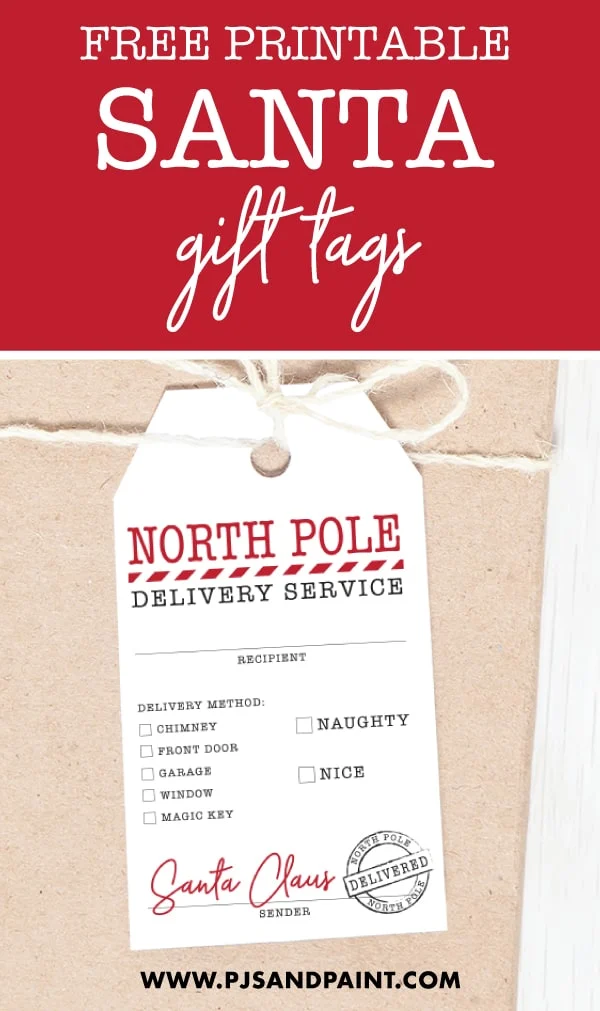 Disclaimer: This post contains Amazon affiliate links. This means that at no extra cost to you, I may earn a small commission if you decide to make a purchase. Read more in our affiliate disclosure.
These gift tags are signed by Santa and will be sure to add a bit of magic to your children's day. Included on the tag is the recipient's name, a checkbox of whether they have been naughty or nice, and a choice of delivery method. Santa can choose to deliver the gifts through:
the chimney
the front door
the garage
the window
or with a magic key
Have some adults on your gift list that haven't been so nice? You can include this tag as well, just be sure to mark the naughty list checkbox!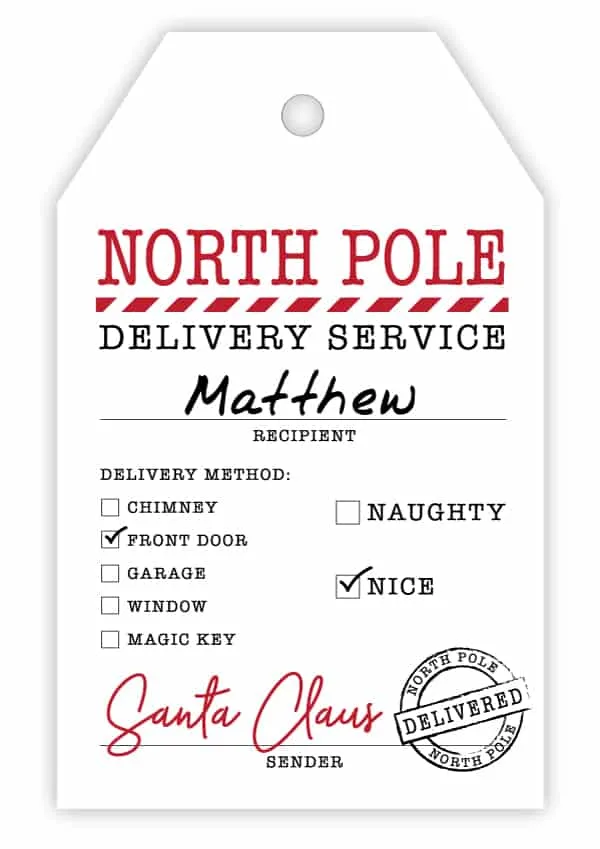 Download link located at the bottom of this post.
Free Printable Santa Gift Tags
The Santa gift tags are sized to fit onto a standard 8.5×11 inch piece of paper or cardstock. 8 Santa gift tags will print per page. Simply cut out the tags alone the guidelines, punch a hole at the top and then attach them to your present with a pice of ribbon or string. (I'm loving this red/green string from Amazon).
Feel free to download and print as many copies of the Santa gift tags as you would like. However, please do not edit or redistribute the files in any way. These gift tags were created for personal use only.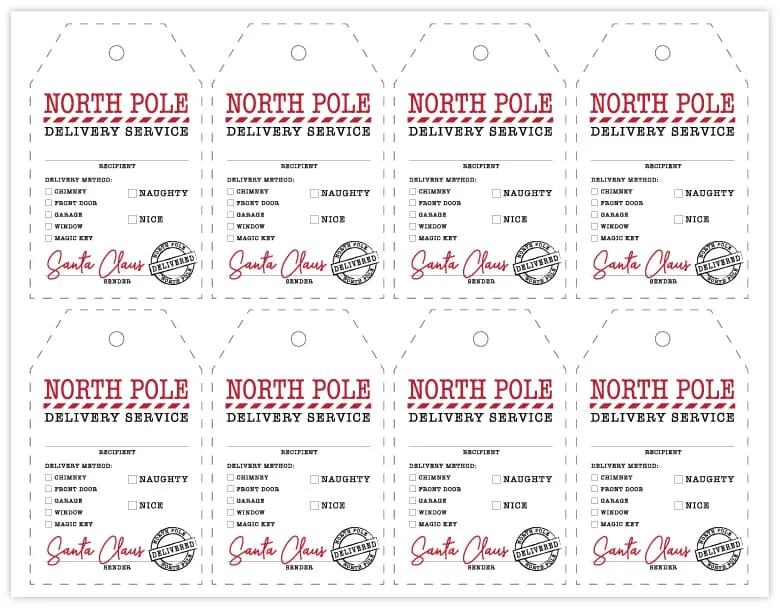 Download link located at the bottom of this post.
Make Christmas a little more magical this year with these free printable gift tags.
Be sure to check out the matching free Santa printables below: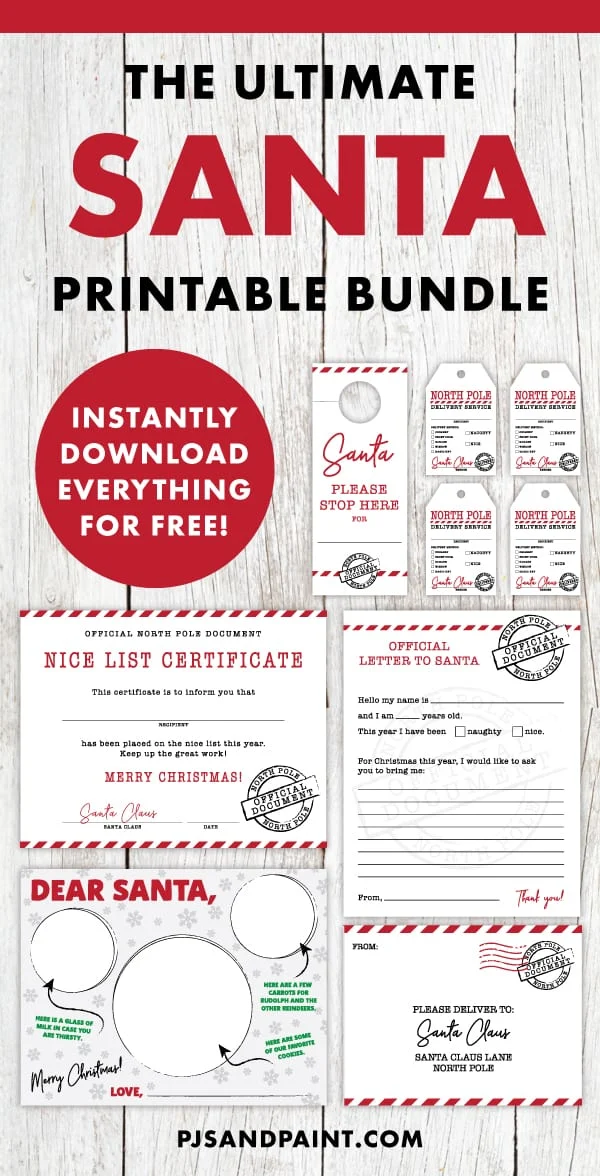 Free Printable Nice List Certificate, Signed by Santa
Sending your children this nice list certificate is a great way to encrouapge them to keep up their good behavior that they have been exhibiting throughout the year. It could also be a nice little reward to let them know that they have been doing a good job and that Santa has taken notice. Whether your child will be receiving this nice list certificate in the mailbox or inside their stocking Christmas morning, it will surely put a smile on their face!
Free Printable Letter to Santa with Matching Printable Envelope
Simply have your kids fill out their wish list to Santa on this printable letter and have them place it in the matching envelope. The envelope is already addressed to Santa, so all they need to do is put it in your mailbox and Santa's elves will come pick it up and make sure to get their letter to Santa just in time for Christmas.
Free Printable Santa Stop Here Door Hanger
Are your children afraid that Santa won't know where to drop off their gifts for them this Christmas? Maybe you will be spending the holidays somewhere else, maybe you just moved, or maybe they just want to be really sure that Santa remembers them. Whatever the case may be, hanging this Santa stop here door hanger on their door this year will ensure that their Christmas gifts will arrive in the morning!

Download Link:
Download the Santa Gift Tags