Traditions are always such a fun part of the holiday season. If your kids usually write their wish list to Santa, have them use this free printable letter to Santa. It even has an "Official North Pole" document stamp on it! Once they are done writing their letter, you can use the free printable envelope for them to send it to the North Pole.
Growing up, writing a letter to Santa was always such a memorable experience. After my brothers and I would write our wish list to Santa, my mom would take us to a department store that made a huge deal about decorating for Christmas.
This store had a giant mailbox that kids would place their letters into. I remember that once the elevator doors opened I couldn't wait to run over to that mailbox and put my letter to Santa down the slot. After all, he needed as much time as possible to get started working on my wish list!
I'm very upset that that particular store no longer exists, I would have loved to take my kids there to see all of the magical decorations and have him place his wish list into the same mailbox I did as a child.
Basically what I'm trying to say is that writing a letter to Santa is a great Christmas tradition that creates long lasting memories for kids and adults alike.
I definitely plan on keeping a copy of all of my kids' wish lists so that they can look back on them years later and get a good laugh at what they wanted when they were smaller.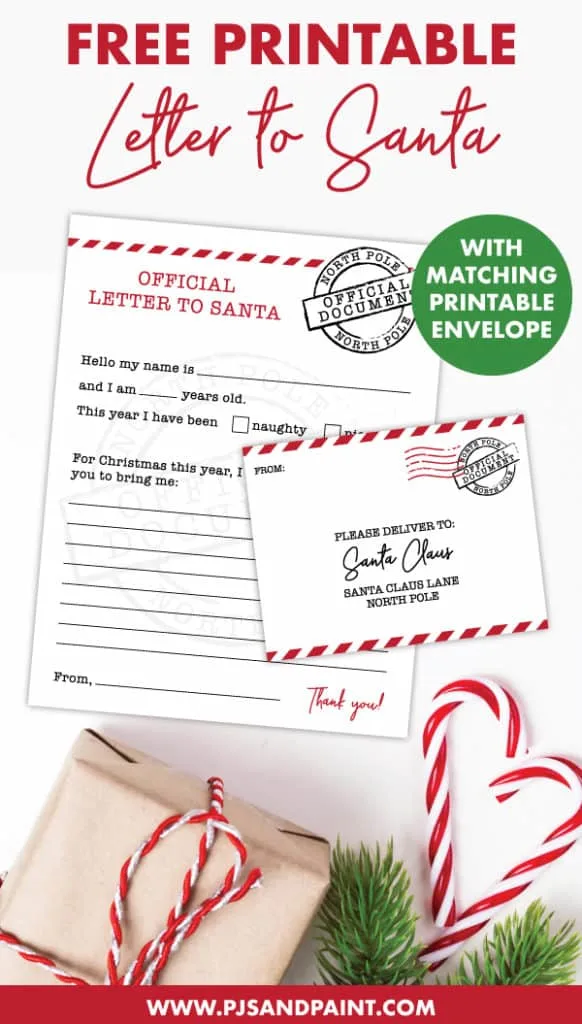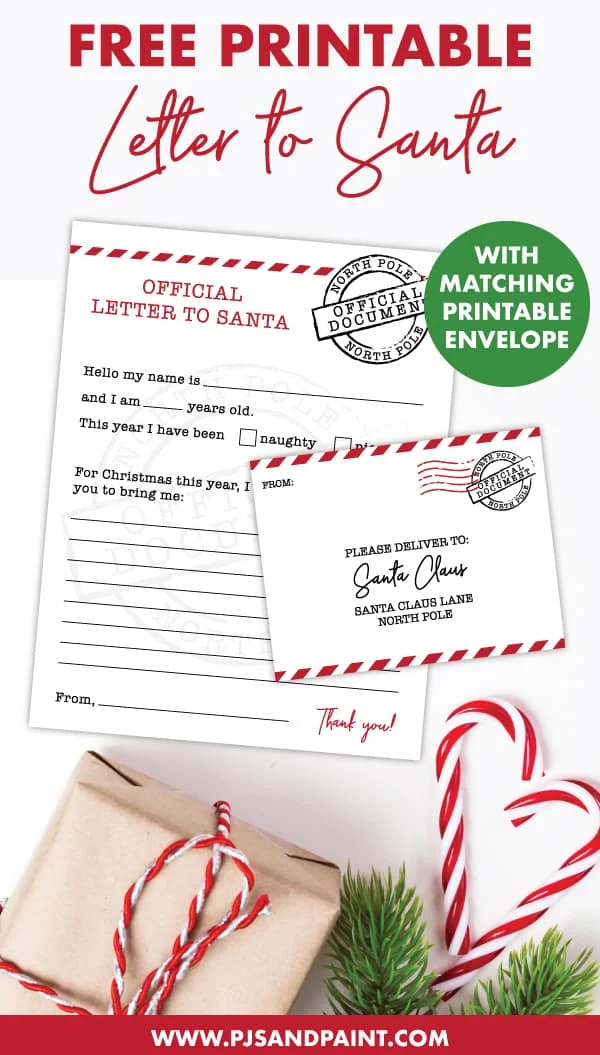 I'll never forget one time when my youngest brother was about 5. He had insisted that Santa bring him a "Bobcat." Now I'm not talking about the animal (which in itself would be a pretty odd Christmas gift), I mean the giant construction equipment type of Bobcat. I'm guessing between my dad working in construction and Bob the Builder constantly being on repeat in our house, a tractor seemed like a reasonable Christmas gift to him.
Needless to say, Santa did not have enough room on his sleigh that year to bring him a full sized tractor. But it's still a great memory that gets brought up year after year. It always gives everyone a good laugh!
So in the spirit of Christmas I wanted to create this free printable letter to Santa, along with a matching printable envelope. Both the letter and envelope have the "North Pole Official Document" seal stamped on them, so you know it's the real deal!
Simply have your children fill out their letter to Santa and stick them in the matching envelope that is already addressed to Santa himself. Place the envelope in your mailbox and Santa's elves will make sure to get the letter to him in time for Christmas.
Disclaimer: This post contains Amazon affiliate links. This means that at no extra cost to you, I may earn a small commission if you decide to make a purchase. For more information, please read our affiliate disclosure.
Free Printable Letter To Santa
Have your kids fill out the top of the letter along with their Christmas wish list. After they're done, you can print out the envelope below and have them put it in the mailbox. The elves will pick it up and deliver to Santa himself!
The letter is sized to fit on a standard 8.5×11 inch piece of paper. For the best quality, I would recommend printing on white cardstock.
Feel free to download and print as many copies of the letter and envelope as you would like. However, please do not edit or redistribute the files in any way. The letter to Santa and matching envelope were designed for personal use only.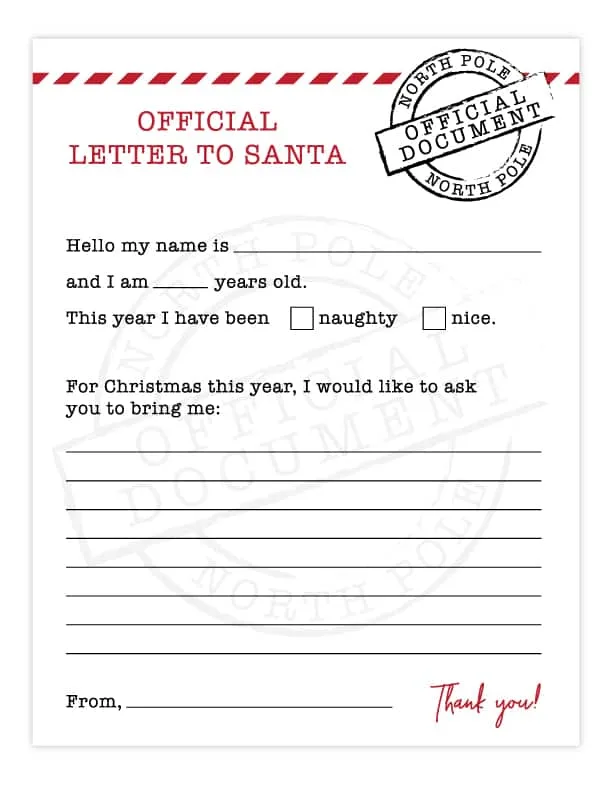 Letter and envelope download links are located at the bottom of this post.
Free Printable Envelope
The envelope is sized to fit on an 8.5×11 inch piece of paper. For the best quality print, I would definitely recommend using white cardstock.
Simply cut the envelope out along the guidelines. Fold the bottom (larger) flap up and make a crease. Fold the two side flaps inward and tape or glue to the larger bottom flap. After you're done, fold up Santa's letter, put it inside and fold down the top flap and seal with a piece of tape or a fun sticker.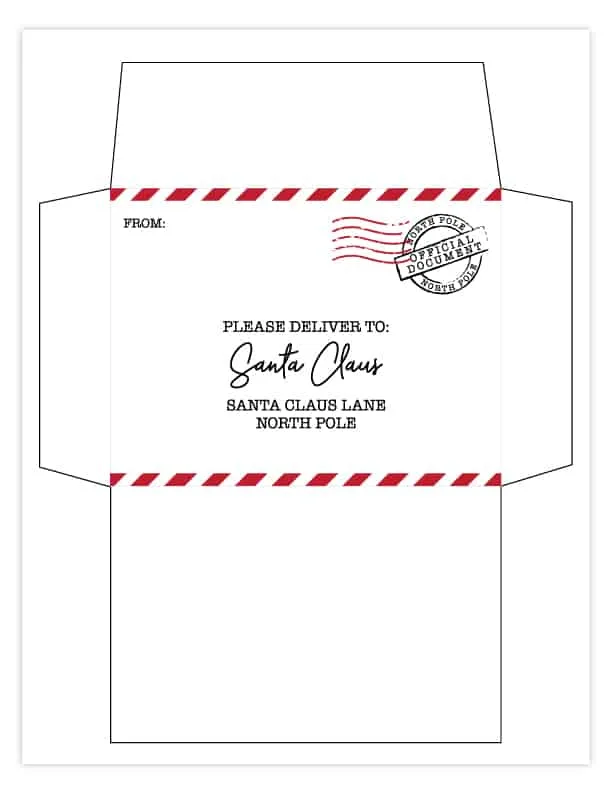 Letter and envelope download links are located at the bottom of this post.
Check out these other free matching Santa printables:

Download Links:
Download the letter to Santa.
Download the envelope template.