Today, I wanted to share another fun printable to help make the upcoming holiday season even more magical for your kids; a free printable nice list certificate, signed by Santa himself.
Last year, my son was too little to really understand what Christmas was all about. however, this year, now that he is a bit older and more aware of the holiday, I wanted to start some really fun Christmas traditions with him.
Of course, you can't have Christmas without Santa! And all kids know that if you are on Santa's naughty list, your stockings will most definitely be filled with coal. Since every child will surely rather waking up to presents under the Christmas Tree, they are going to make sure that they are on Santa's nice list this year!
I wanted to create this free printable nice list certificate to "mail" to my son a few weeks before Christmas day. The certificate is signed by Santa himself, and even has a "North Pole Official Document" stamp on the corner. That is how you know this is the real deal!
Sending kids this nice list certificate is a great way to encourage them to keep up the good behavior they have been exhibiting this year. It can also be a nice little reward to let them know that they have been doing a good job and that the big guy has taken notice.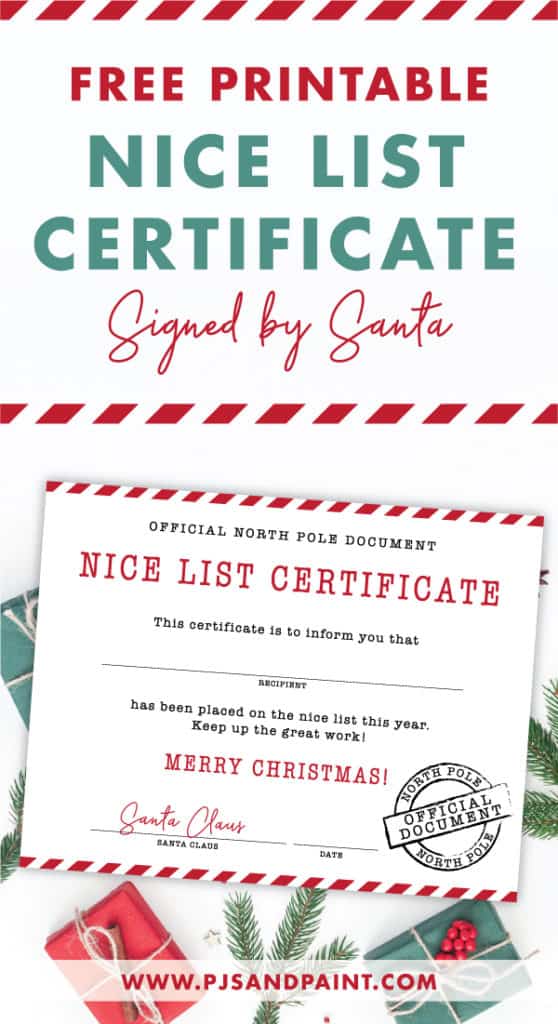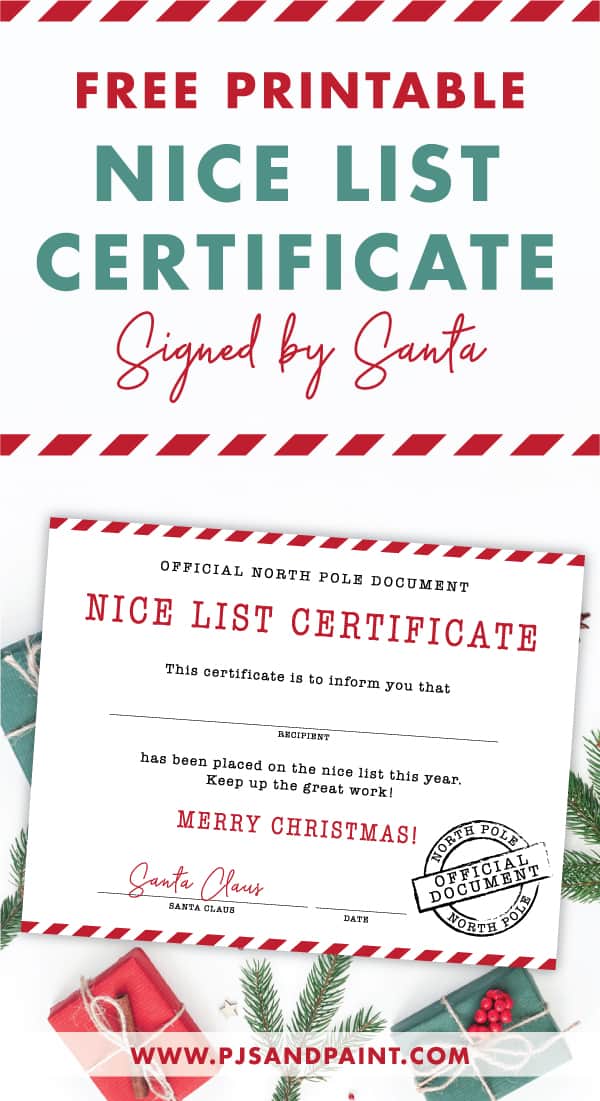 Disclaimer: This post contains Amazon affiliate links. This means that at no extra cost to you, I may earn a small commission if you decide to make a purchase.
How much fun would it be for your child to revive this official nice list certificate in the mail prior to Christmas Day, or even that morning inside of their stocking.
All you will need to do is print out the pdf, which is sized to fit a standard 8.5×11 inch piece of paper. For best results, I would highly recommend printing on white cardstock. The certificate is already signed by Santa himself, and stamped with the "North Pole Official Document" seal, so simply fill out your child's name and the date and you are good to go!
Feel free to download and print as many nice list certificates as you would like. However, please do not edit or redistribute the files in any way. The nice list certificate was created for personal use only.
Scroll down to the bottom of this post for the Nice List download link.

Be sure to check out the matching free Santa printables below!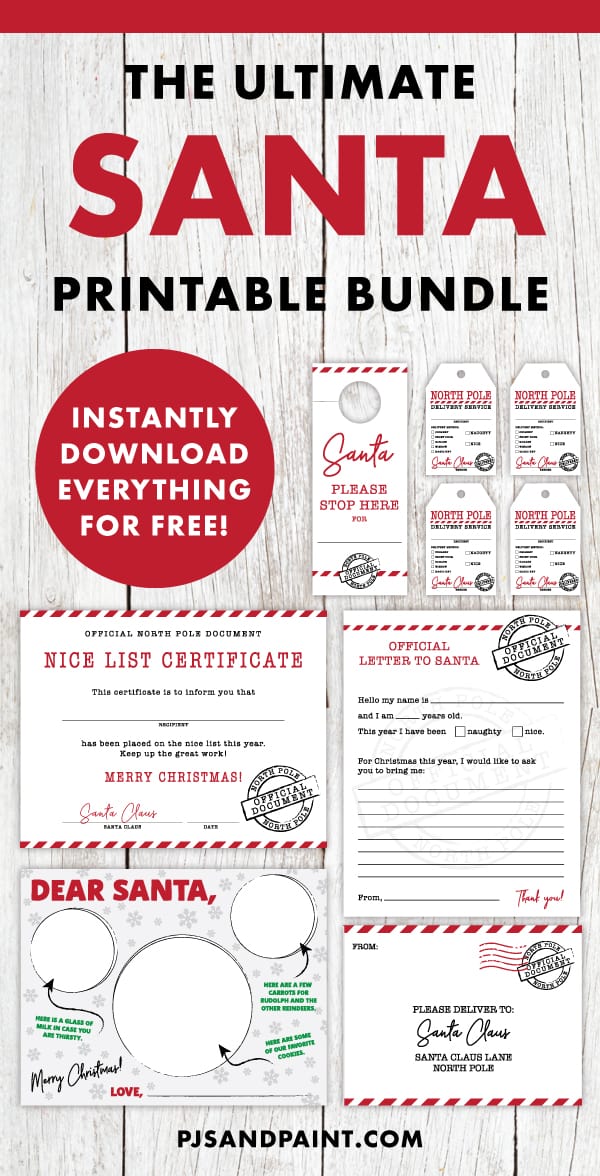 Letter to Santa with matching printable envelope:
One of the best parts of the holiday season are the fun family traditions that you create. If your kids typically write their wish list to Santa, you can start using this free printable letter to help get them in the holiday spirit. Also available for download is a matching printable envelope. If you are using the wish list letter, be sure to mail it in this special envelope so that they elves know to pick up the letter and deliver it to Santa himself! The letter and envelope also both have "Official North Pole" document stamps on them.
Santa Gift Tags
One way to make sure that Christmas Day is even more magical for your children is to include these Santa gift tags on all of the presents under the tree. With spaces to check off what the delivery method was, and if the child is on the naughty or nice list this year, these tags will definitely be a great addition to all of the Christmas presents under the tree. The tags are even signed by Santa himself and stamped with an "Official North Pole" seal.
Santa Stop Here Door Hanger
Maybe you won't celebrating Christmas at home this year and your kids are afraid that Santa won't know where to bring their presents. Or maybe, they just need a little extra reassurance that Santa won't forget about them! Whatever the case, they can hang these free printable "Santa Stop Here" on their door Christmas Eve to make sure that Santa remembers to pay your house a visit!
Dear Santa Cookies and Milk Printable Placemat
Leaving out milk and cookies for Santa is always such a fun Christmas Eve tradition. It is so exciting to wake up on Christmas morning and see how much milk Santa drank, and how many cookies are left! There are spaces to include a glass of milk, a few cookies and even carrots for Rudolph and the rest of the reindeers.
Nice List Certificate
I remember when I was younger my mom would take my siblings and I to a department store that went all out decorating for holidays, especially Christmas. As soon as we got off of the elevator we were greeted with a large mailbox, a giant red chair and a very long list of the names of the kids that were currently on Santa's nice list that year.
As soon as the elevator doors opened, my brothers and I would always rush to the mailbox and try to see if any of our names were on the nice list!
This free printable Santa's Nice List Certificate will most definitely bring a smile to your child's face this year. Not only will it make them happy to know their good behavior has been recognized, it will encourage them to keep up the good work.. at least until Christmas Day!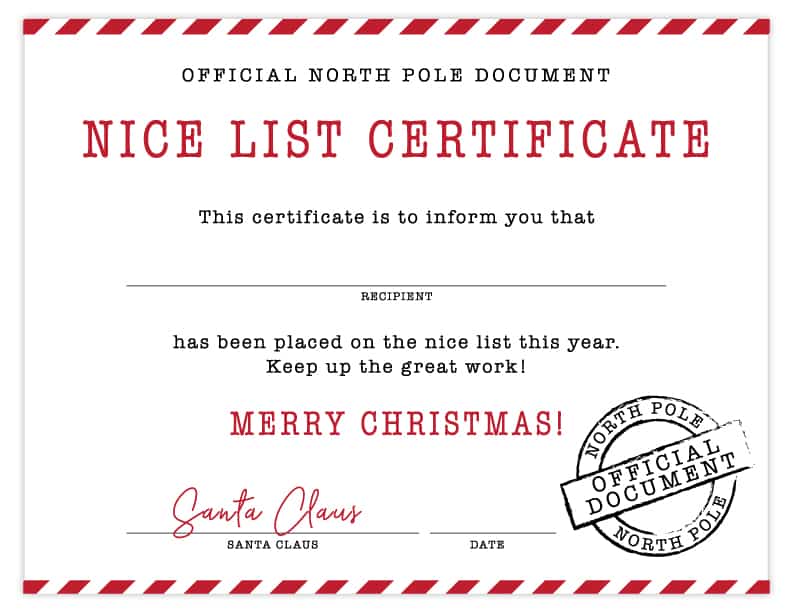 Your kids will be so excited to know that their good behavior all year has landed them on Santa's nice list. I hope you enjoy this free printable Santa Nice List Certificate! Don't forget to check out the matching Santa printables listed above to make this year's Christmas as magical as possible!
Merry Christmas everyone!

Download Link:
Download the Nice List Certificate