Halloween is almost here! Get in the spooky season spirit by making this fun and easy popsicle stick Frankenstein craft. It is a great activity for kids to make at home, in the classroom or at a Halloween party this upcoming Fall.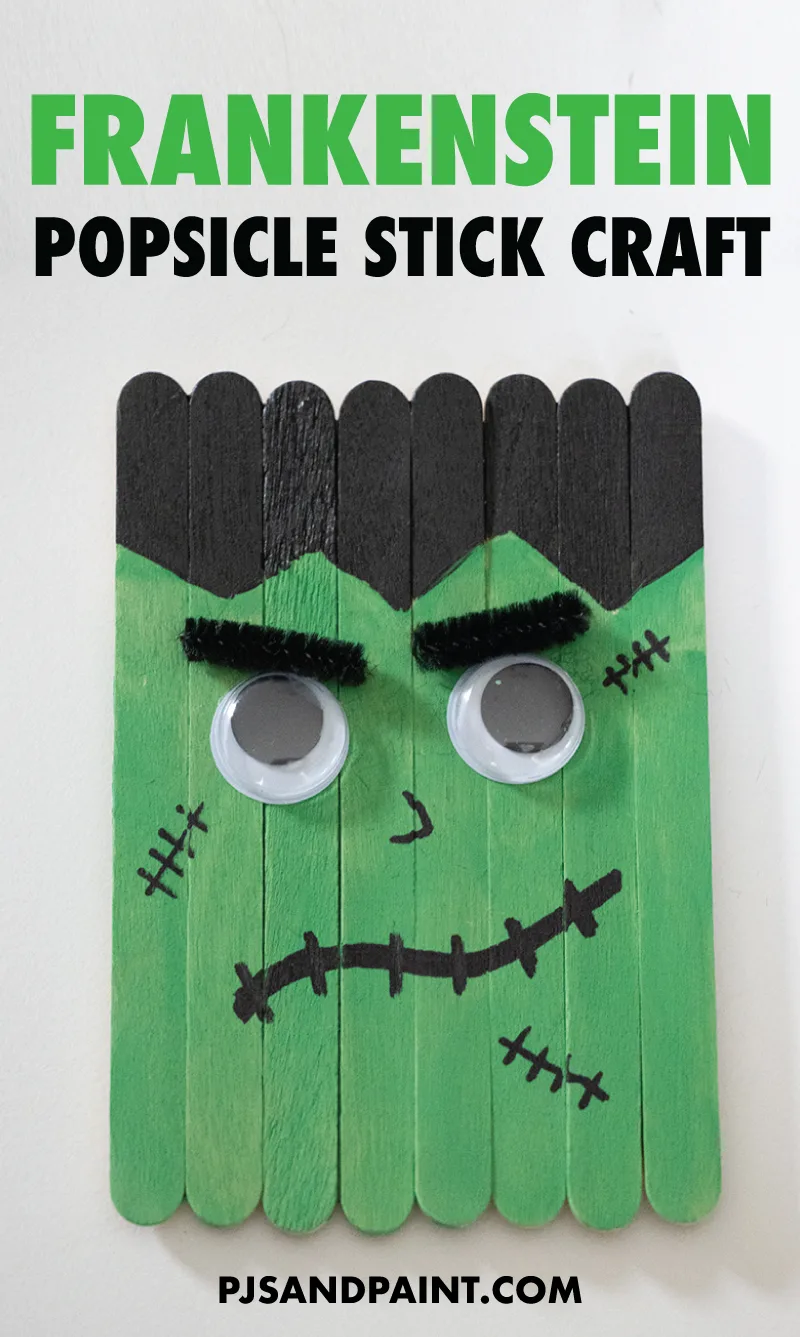 Disclaimer: This post contains Amazon affiliate links. This means that at no additional cost to you, I may earn a small commission if you decide to make a purchase. For more information, feel free to read our affiliate disclosure.
Materials needed to make one popsicle stick Frankenstein:
Black marker
Green paint
Black paint
Paintbrushes
Scissors
Glue
The first thing you will need to do is line up 8 popsicle sticks next to each other. Take another popsicle stick and glue it horizontally across. Make sure to use a generous amount of glue, especially at the two ends.
Note: If you are doing this entire project with kids, you will probably want to use some type of kid friendly school glue. However, if you will be preparing the popsicle stick portion beforehand, you may wish to use hot glue. This will be much quicker to dry and provide a stronger hold.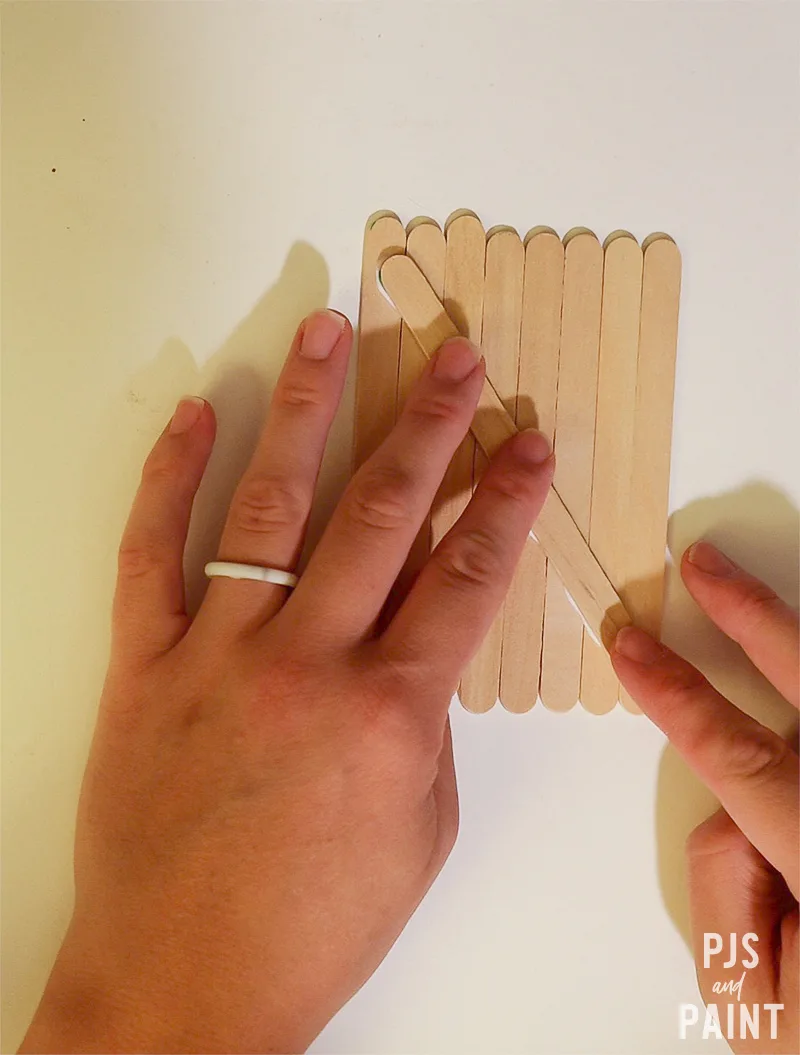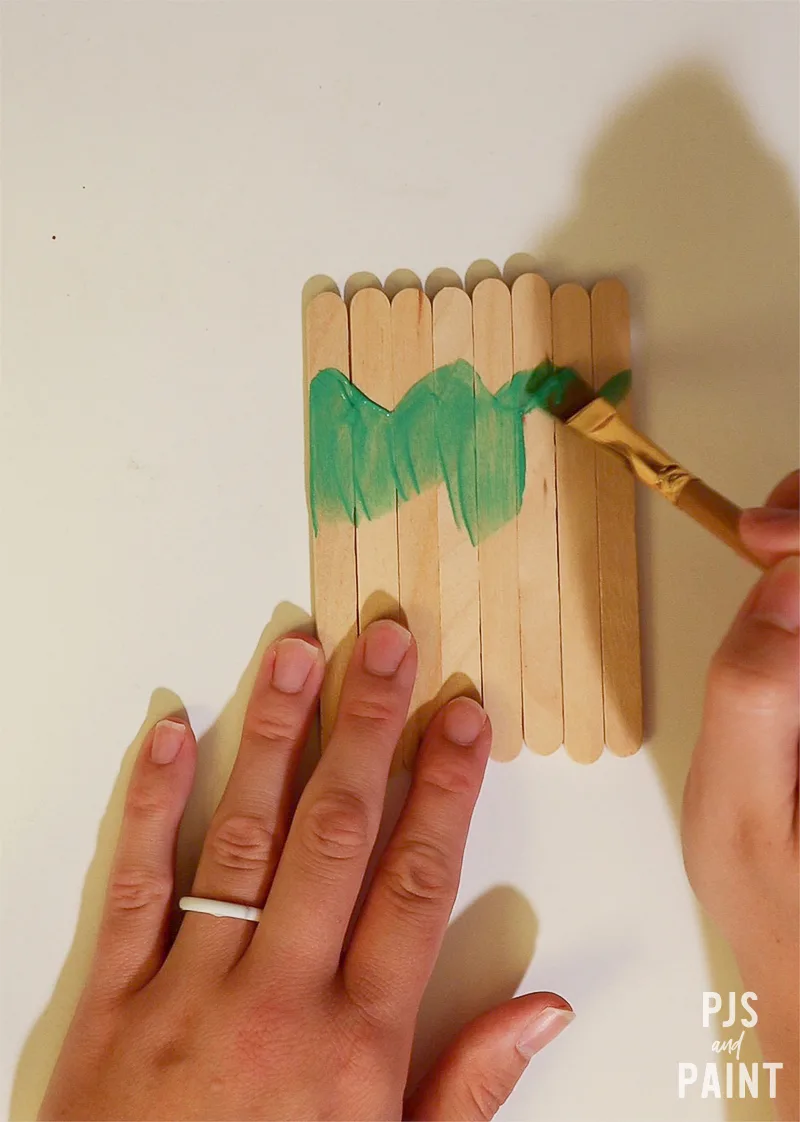 Once the glue is completely dry, you can flip the popsicle sticks over and begin painting the bottom portion green. I painted in a zig zag pattern to leave room for Frankenstein's hair. Depending on the opacity of your paint, you may have to use more than one coat of green paint like I did.

Next, go back in and paint the top portion of the popsicle sticks black to create Frankenstein's hair.
Make sure you let the paint completely dry before moving onto the next step.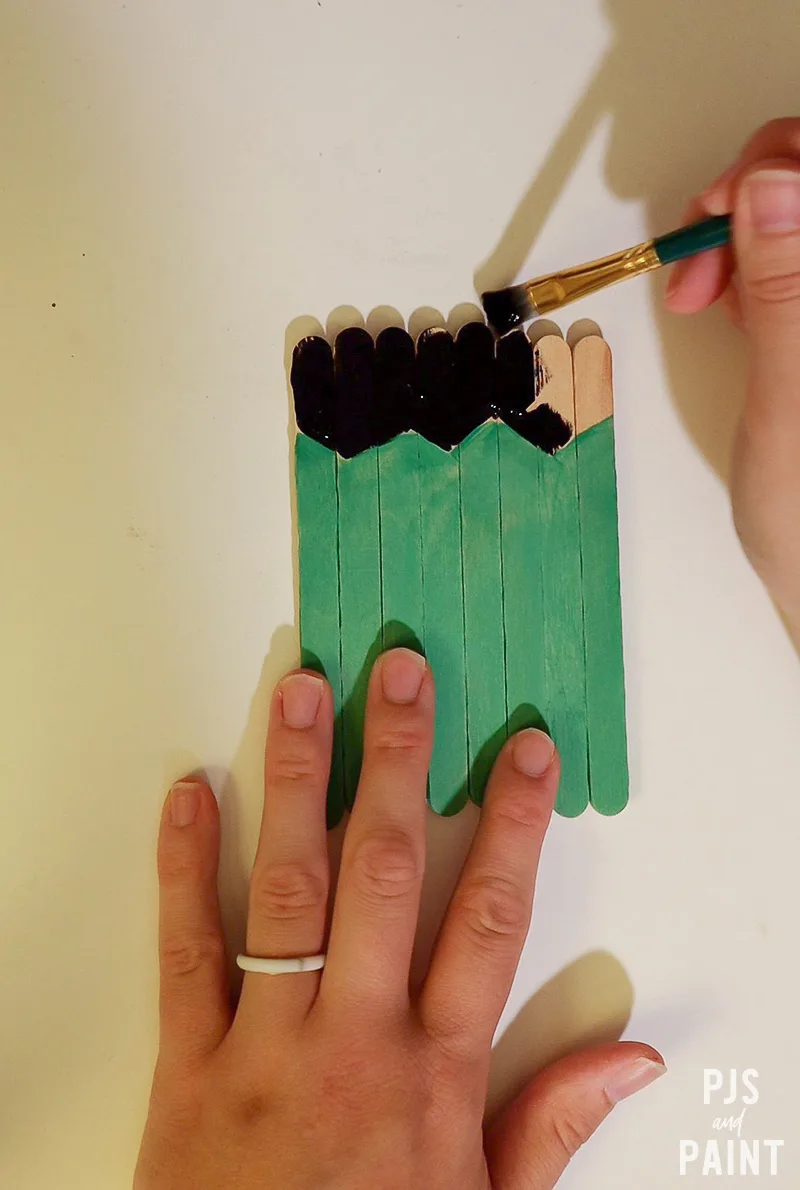 After all the paint has dried you can glue down two googly eyes. Next, cut the black pipe cleaner into two small pieces and glue above his eyes to create his eyebrows.
Finally, go back in with black marker to draw on Frankenstein's mouth, nose and stitches.
You can either use black marker for this step, or use the black paint from the previous step.
And there you have it!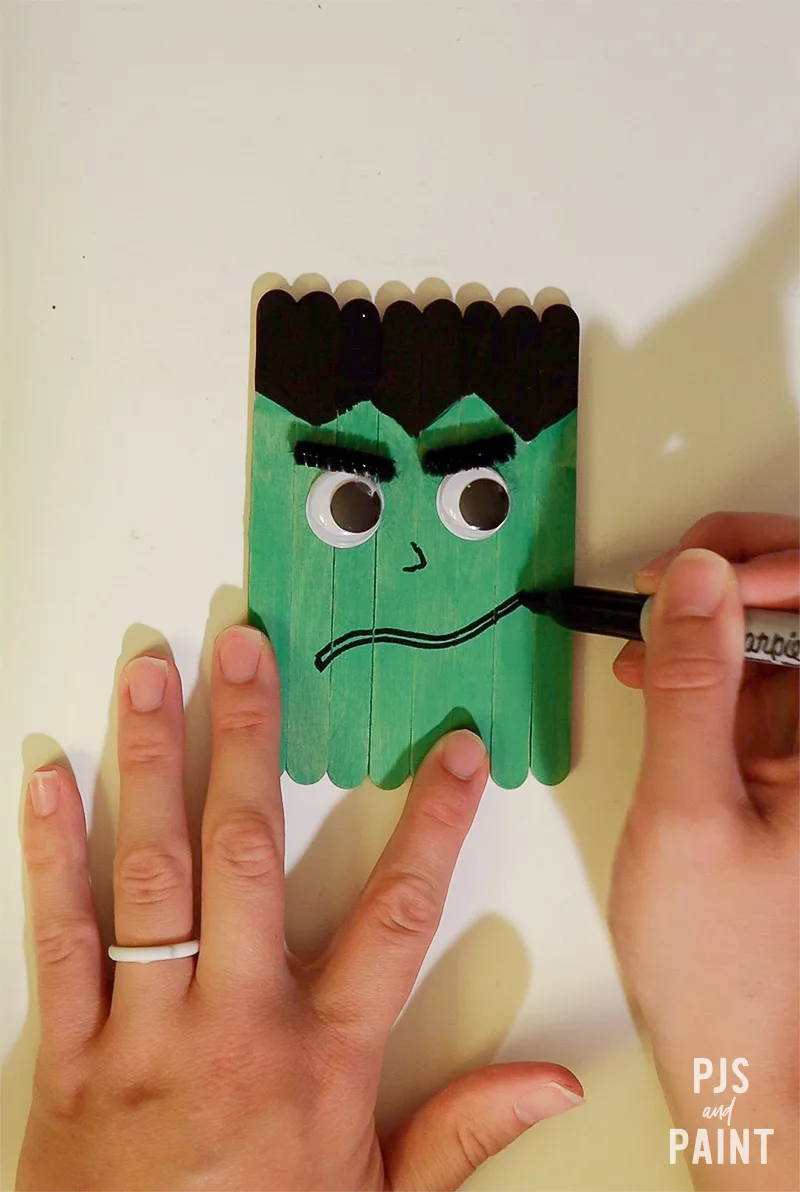 What you do with your popsicle stick Frankenstein craft?
Here are a few ideas of what you can do with your craft now that it is completed:
Attach a craft magnet with an adhesive back to the back and use it as a fridge magnet or to decorate your fridge for Halloween.
Glue a piece of string or twine to the back of the craft to create a fun Halloween door hanger.
Use it as a toy! I know my kids absolutely love using these types of crafts for pretend play. They give them little voices and make them a part of their toy collection.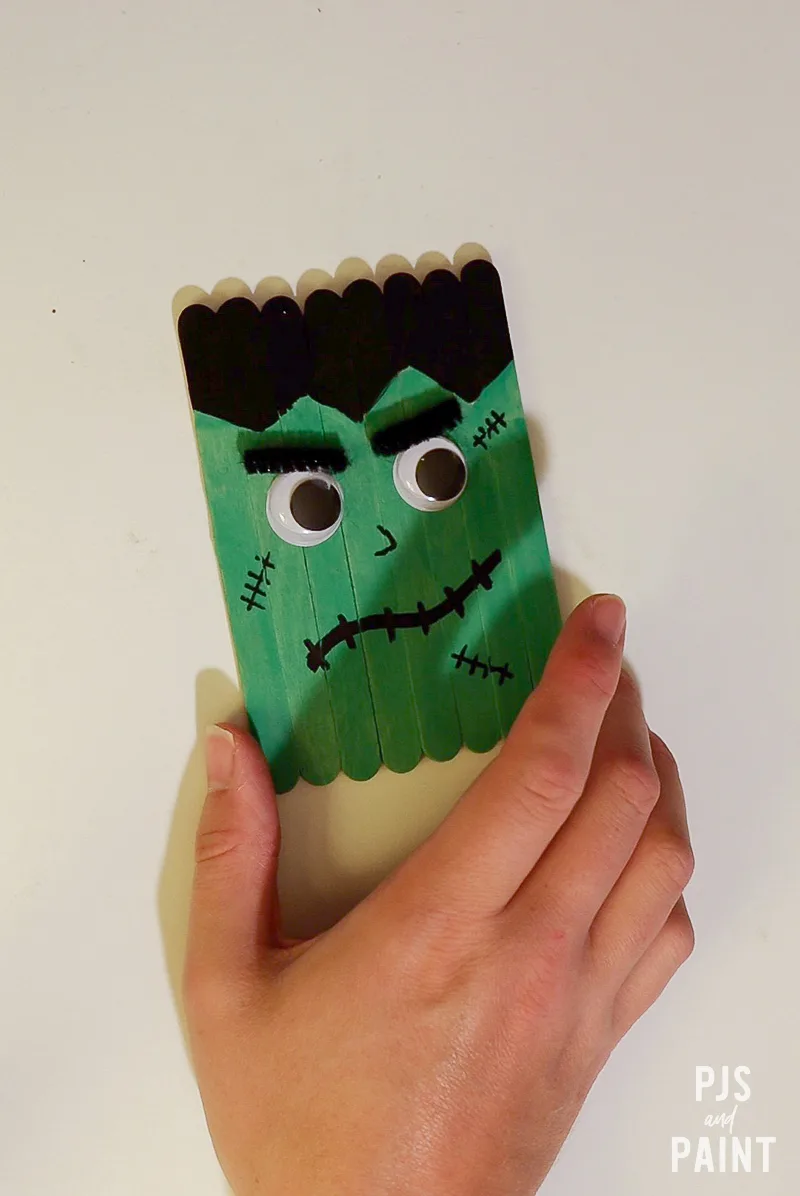 Enjoy this craft? Then you may want to check out some of our other fun Frankenstein themed crafts and printables below:
Frankenstein Paper Plate Craft
Learn how to make this adorable Frankenstein craft using a paper plate. It is a fun Halloween craft that the kids will love!
Free Printable Candy Bar Wrappers
Frankenstein, pumpkins, mummies and vampires, oh my! Print out these candy bar wrappers to add some extra festive fun to your Halloween candy bowl this year.
Free printable Halloween Soda Bottle Labels
If you are looking for a fun way to spruce up your Halloween party this year, these free printable Halloween soda bottle labels are just what you need! With options of Frankenstein, mummies and vampires, they will be a great added touch to your snack table!
DIY Frankenstein Piñata Tutorial
Learn how to make this fun Frankenstein piñata, perfect for Halloween parties this upcoming spooky season!
Free Printable Halloween Water Bottle Labels
Trick or treating all Halloween night can leave both kids and parents tired and thirsty. Handing out water bottles with these cute printable water bottle labels will definitely be appreciated by everyone! Included in this free download are printable water bottle labels for Frankenstein, mummies, pumpkins and vampires.