Whether the weather outside is hot or cold, it is always a great day for ice cream! But if you want to skip the sweet treat, you can use this fun free printable build your own ice cream craft and still get in your daily dose of ice cream!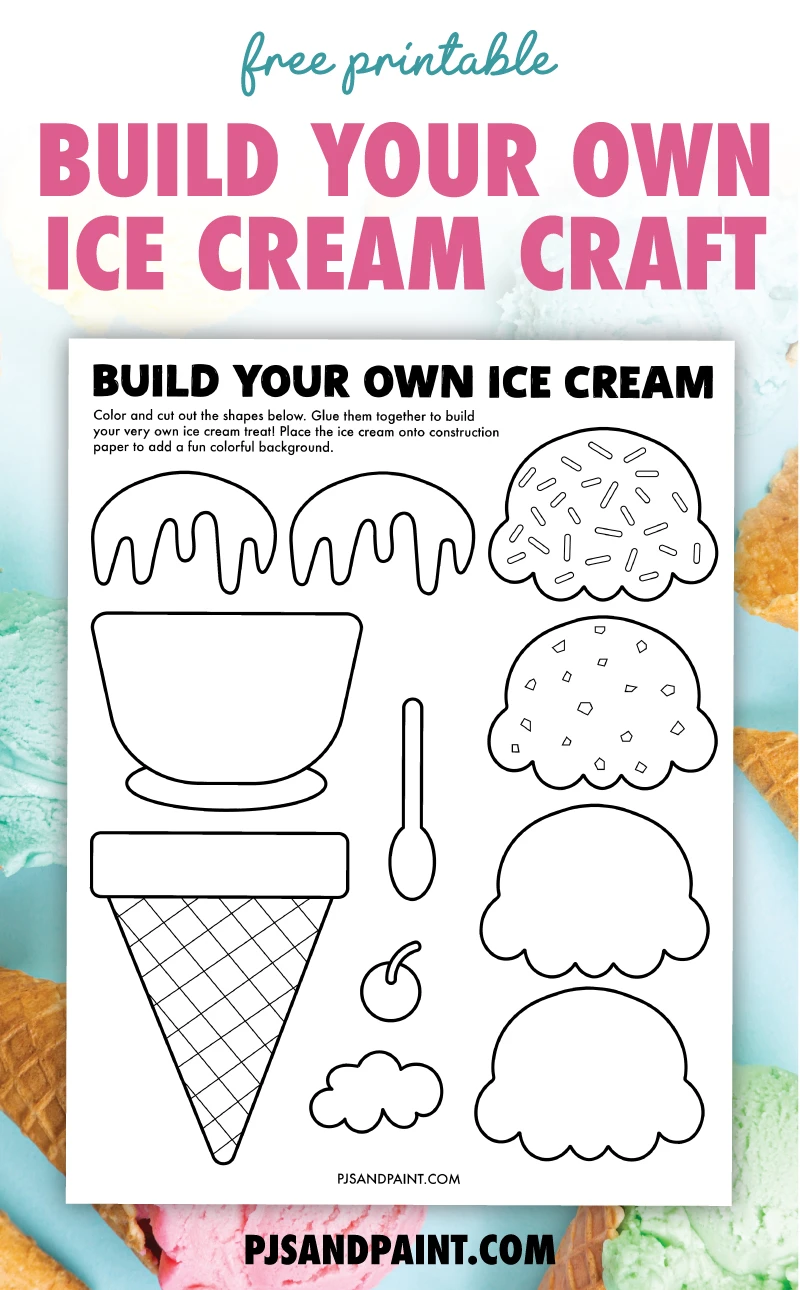 Disclaimer: This post may contain Amazon affiliate links. This means that at no additional cost to you, I may earn a small commission if you decide to make a purchase. For more information, please feel free to read the affiliate disclosure on our privacy policy page.
For my son's birthday someone had bought him this Melissa and Doug Wooden Scoop and Serve Ice Cream Counter. (It is excellent quality by the way, I highly recommend!)
It has been a huge hit! Both my kids love creating and serving ice cream to anyone who wants to order from their shop. That gave me an idea for a fun printable activity I could create as well.
Today I'm excited to share with you this fun free printable build your own ice cream craft!
Materials needed:
White printer paper or cardstock
Crayons, markers, colored pencils or other art supplies
Scissors
Glue
Construction paper
What is included in the printable pdf?
Included on each page is 4 scoops of ice cream to color in. Two plain, one with sprinkles and one with chocolate chip chunks! There is also two toppings you can color in to look like chocolate fudge, caramel or any other sweet treat!
And of course you don't want to forget the classic whipped cream and a cherry on top.
You can put your ice cream creation into a cup or a cone, or divide the ice cream scoops and make one of each! You can also color in the small spoon to go along with the ice cream cup. Yum!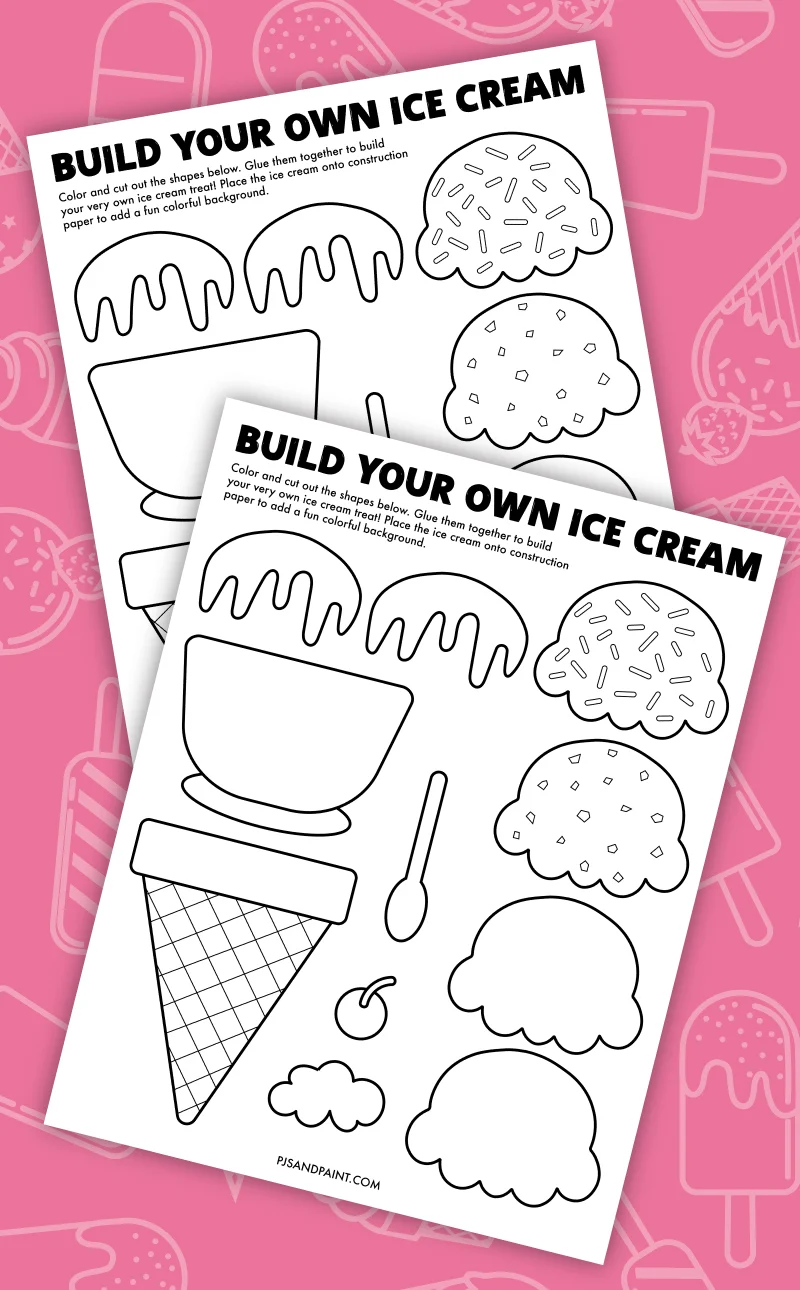 How to put together the ice cream craft
Simply color and cut out the ice cream, toppings, cone, cup and spoons. Glue them together to build your very own ice cream treat!
Next, place the ice cream onto construction paper to add a fun colorful background.
You can choose between creating an ice cream cone, ice cream in a cup, or one of each!
Free Printable Build Your Own Ice Cream Craft
This craft was designed to be printed onto a standard piece of 8.5×11 inch piece of paper or cardstock. One activity will print per page.
Please feel free to download and print as many copies of the ice cream craft as you would like. However, please do not edit or redistribute the files in any way. This activity was created for personal or classroom use only.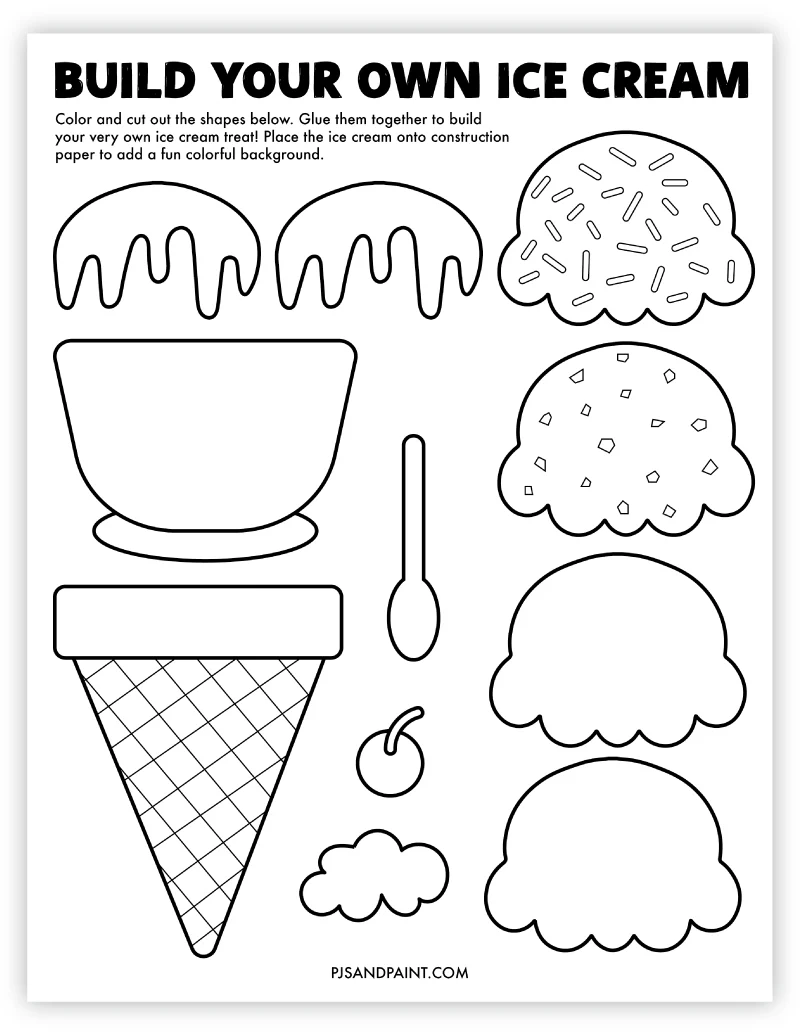 If you enjoyed this post, you might also like to check out some of our other fun free "build your own" printables below:
Download Link:
Download the build your own ice cream printable.