Thanksgiving is right around the corner! Make sure you are prepared to keep the kids entertained with this fun free printable roll a turkey game.
All you need for this fun activity is the free printable game board, a few dice and some M&Ms.

Disclaimer: This post contains Amazon affiliate links. This means that at no extra cost to you, I may earn a small commission if you decide to make a purchase. For more information, please read our affiliate disclosure.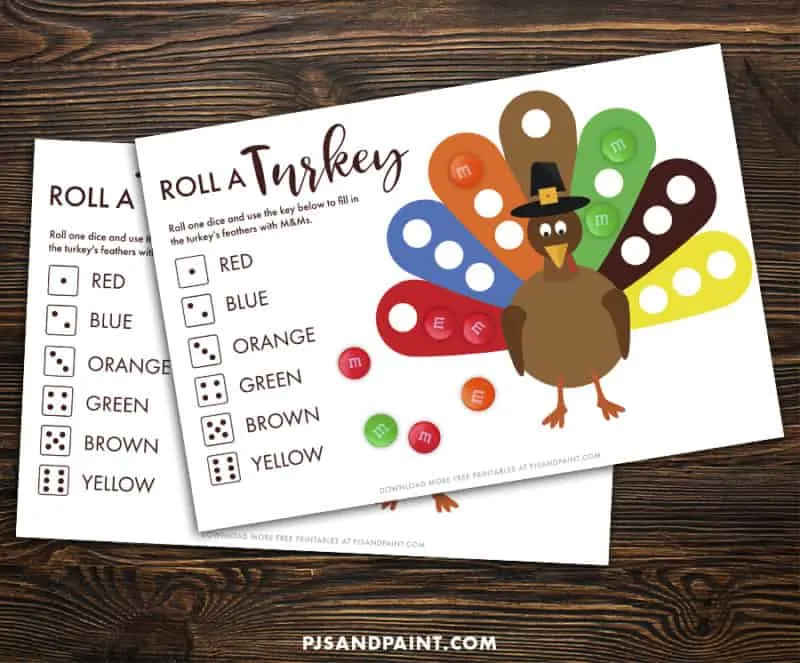 Kids and adult alike will have a blast playing this game and the best part is that when they're done, they can all eat the M&Ms!
How to play the Roll a Turkey Game
Each person will roll one dice. Use the key to determine which color M&M should be placed on the turkey's feathers. Keep rolling the dice until all of the feathers have been filled in with the correct colors. When complete, you can eat all of the M&Ms!
Roll a Turkey – Free Printable Thanksgiving Game
2 games will print per 8.5×11 inch page. For the best quality, I would recommend printing on white cardstock. Once printed you can cut the two games apart using scissors or a paper cutter.
Feel fee to print as many copies off the game as you would like. However, please do not edit or redistribute the files in any way. This game was created for personal or classroom use only.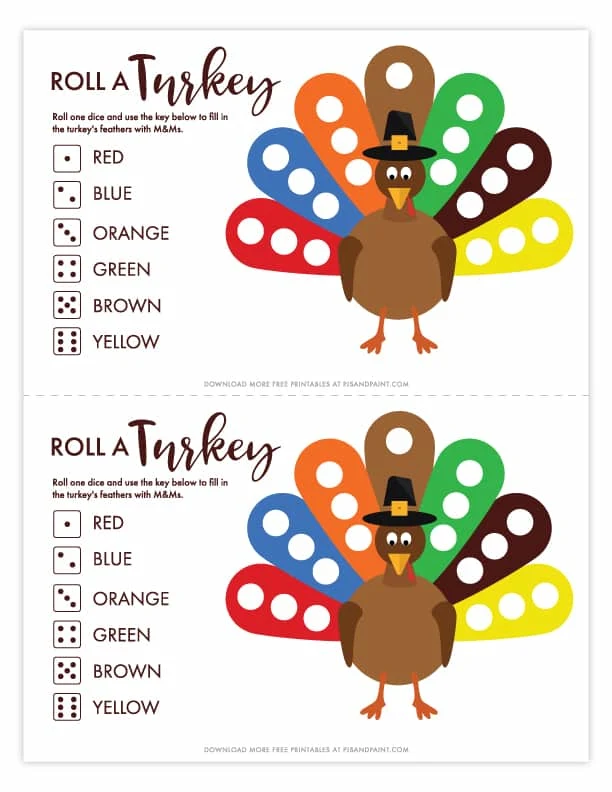 Add some competition when playing with adults
This roll a turkey game doesn't have to be just for kids. To make it a little more interesting, give each person a dice and small bowl of M&Ms. Say GO and have everyone roll the dice and try to fill in the turkey's feathers as fast as they can. Whoever finishes first gets to eat everyones candy!
Make the game more durable for plenty of use!
Once you get started playing this roll a turkey game, you are going to want to keep playing! To ensure that the game holds up for multiple rounds (and multiple kids!) you may want to make the game board a little more sturdy.
I would highly recommend printing out the game onto white cardstock and then laminating with a home lamination machine. This is the home lamination machine that I currently have on my work desk and I absolutely love it!
Laminating the game will make it more durable and also be able to wipe clean should any color from M&Ms or any other Thanksgiving food make its way onto the game board.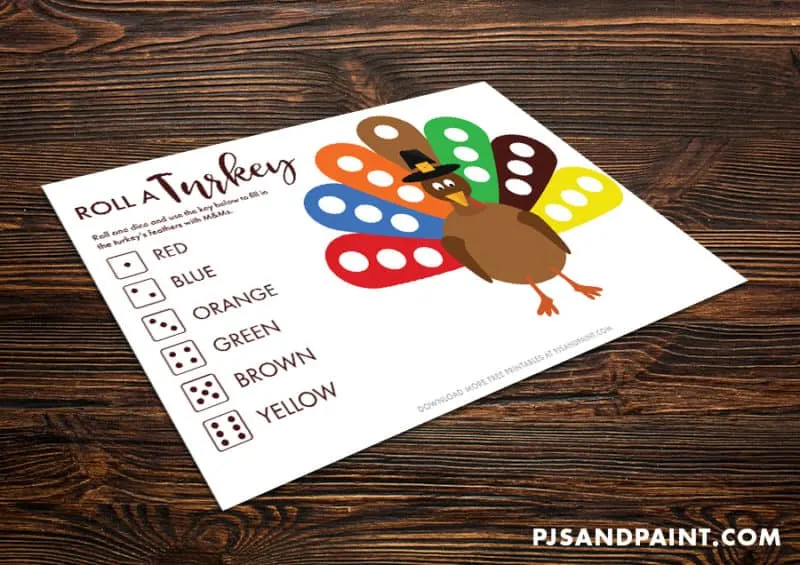 If you enjoyed this game, you may also like to check out some of our other fun free printable Thanksgiving games for kids:
Free Printable Thankful ABC Game
Thanksgiving is truly all about gratitude. This thankful ABC game is the perfect activity for the kids to work on on or before Thanksgiving day. It will keep everyone busy and most importantly, thinking about all of the things they are grateful for this year.
Free Printable Thanksgiving Crossword Puzzle
This crossword puzzle is a great activity for both kids and adults to work on while waiting for Thanksgiving dinner to be ready! Simply read the clues and fill in the crossword puzzle with the correct answers. Feel free to color in the fall and Thanksgiving themed pictures as well for a fun creative element!
How many words can you make out of Thanksgiving
In this free printable game, you will have to try and make as many words as you can using only the letters found in the word Thanksgiving. It is a challenging activity that can definitely turn into a fun and educational competition.
Free Printable Thanksgiving Bingo Cards
Both kids and adults will have a great time playing this classic bingo game with a fun Thanksgiving twist. It would also work well as a classroom activity to keep the students entertained and having fun before Thanksgiving break. This free set includes 15 pages of bingo cards with 2 games per page for a total of 30 different cards. Plenty for a large party, or multiple rounds.
Free Printable Thanksgiving I Spy Game
In this fun I spy game, you will be searching for turkeys, pilgrim hats, pies, pumpkins, acorns, mashed potatoes, cookies and leaves! Simply count how many of each image you see in the box above and write down the correct number on the lines below. You can even encourage the kids to color in the pictures as they count them to add some extra creativity.

Download Link:
Download the roll a turkey game files.