Keep your kids laughing with this fun free printable Halloween joke cootie catcher. It's a fun holiday themed twist on a classic paper fortune teller.

What is a cootie catcher and how to you play?
You may hear this origami game also be called a fortune teller. I know when I was younger, my friends and I would use the two names interchangeably.
Originally to play, you would choose one of the four outer flaps. Oftentimes, it would be the name of a color. If the color was "blue," you would spell out the letters "b-l-u-e" and then open up the folds to reveal four numbers. Next you would choose a number and count up to it. Finally, you would see the next set of 4 numbers, choose one and then lift up the flap to reveal your fortune!
During sleepovers in elementary school my friends and I would create cootie catchers and write the names of boys in our class inside. Whoever's name was revealed by the fortune teller supposedly had a crush on us! A silly game but so much fun for my friends and I.
Is the Halloween joke cootie catcher different than a regular fortune teller?
In terms of the folding portion, nope! Everything is exactly the same as the fortune tellers you know and love. The only difference is that instead of colors on the outer flaps, there are Halloween characters that you spell out the names of. And inside the inner flaps are Halloween themed jokes!

How to fold the Halloween Joke Cootie Catcher:
I remember growing up, my friends and I would make cootie catchers all the time. I used to think of myself as bit of a pro! However, I have been very out of practice and found myself needing a quick refresher.
If you're like me and need an easy folding tutorial, check out the instructions and graphic below. These instructions are also printed right onto the bottom of the Halloween cootie catcher printable.
Step 1: Once the cootie catcher has been cut out, place the artwork face down on a table. Then begin to fold each corner to the opposite corner.
Step 2: Fold all of the corners to the center once again.
Step 3: Flip the page over so that all of the folds are now facing down.
Step 4: Repeat step 2 by folding all of the corners into the center.
Step 5: Finally fold your page both horizontally and vertically.
And that is all there is to it! You can now enjoy and laugh at all of the jokes on your Halloween cootie catcher!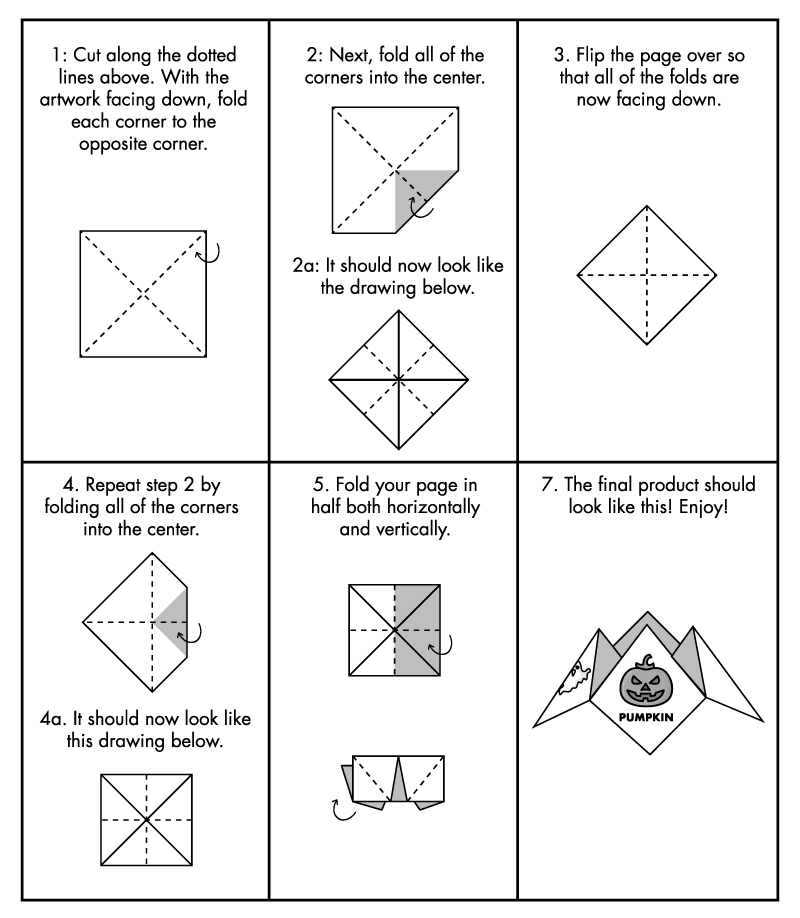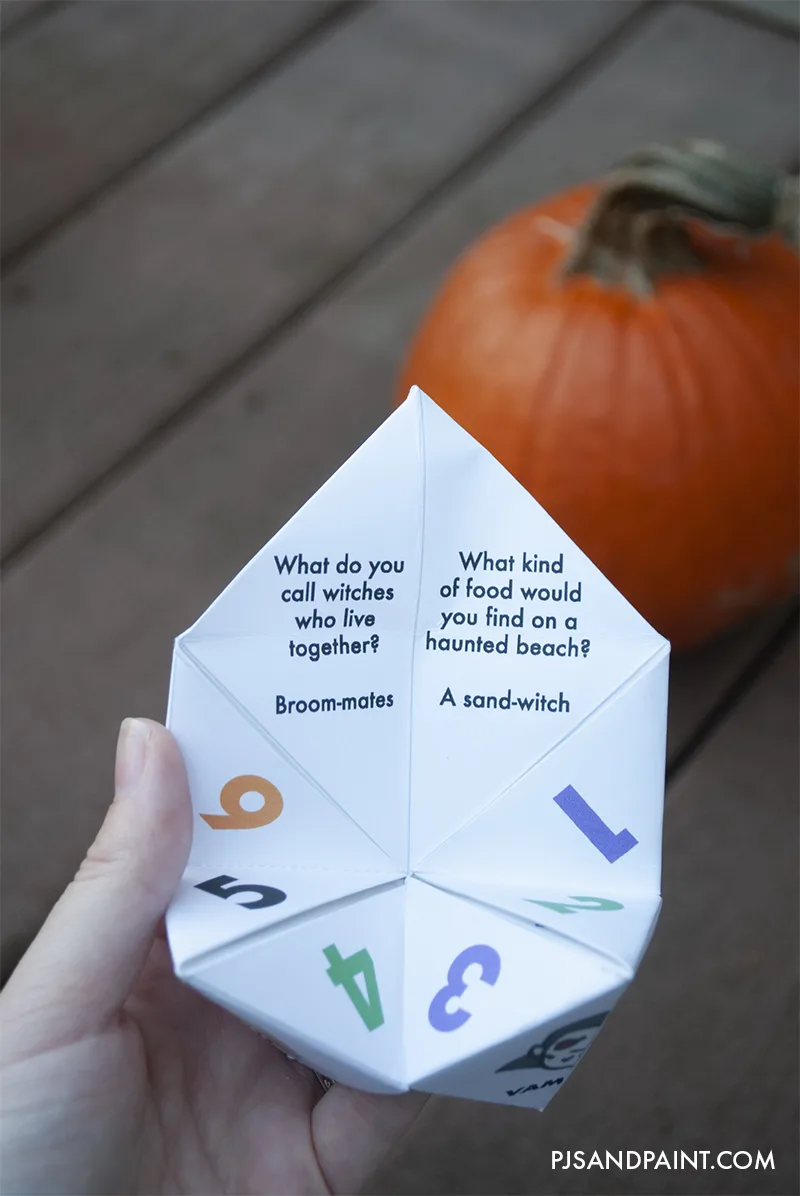 Free printable Halloween joke cootie catcher
This cootie catcher is designed to print onto a standard 8.5×11 inch piece of printer paper or cardstock.
Feel free to download and print as many copies of the cootie catcher as you would like. However, please do not edit or redistribute the files in any way.
Want a preview of the jokes featured? Which one is your favorite?
What is in a ghost's nose?
Boo-gers
What do you get when you cross a vampire and a snowman?
Frostbite?
What do skeletons order at a restaurant?
Spare ribs
What is a ghost's favorite dessert?
I-Scream
Why was the broom late?
It over swept
What do birds say on halloween?
Trick or Tweet
What do you call witches who live together?
Broom-mates
What kind of food would you find a haunted beach?
A sand-witch

If you enjoyed this cootie catcher, you may like to check out some of our other fun (and free!) Halloween printables:
Free Printable I Spy Halloween Game
This fun free printable game features witches hats, candy corn, skulls, pumpkins and more. It is great for kids of all ages and is the perfect activity to get everyone into the Halloween spirit.
Free Printable Halloween Bingo Cards
This Halloween bingo game is great for both kids and adults. Everyone will have a great time playing the classic bingo game with a fun Halloween themed twist. It would be perfect to play in a classroom or during a holiday party.
Free Printable Halloween Crossword Puzzle
This Halloween crossword puzzle is a fun activity for kids to work on during the Halloween season. Read the clues below and fill in the crossword puzzle with the correct (and sometimes spooky!) answers.
Free Printable Halloween Maze
Work your way through this fun free printable Halloween maze to reach the Jack-O-Lantern in the center. This a great activity for the classroom, holiday parties or something fun to do at home on a rainy day.
Free Printable Halloween Word Search
Featuring 15 Halloween themed words to find, both kids and adults alike will have a blast working on this fun holiday activity.

Download Link:
Click here to download the free printable Halloween Joke Cootie Catcher