Make outdoor strolls even more fun this Spring with this fun free printable Spring Scavenger Hunt. It is great for little ones and will make a regular walk more exciting and engaging for your kids.

Disclaimer: This post contains Amazon affiliate links. This mean that at no additional cost to you, I may earn a small commission if you decide to make a purchase. For more information, please feel free to read the affiliate disclosure on our privacy page.
It has definitely been a long winter season and I am very much looking forward to the warm weather of Spring. While I can just take a long stroll and enjoy the fresh air, sometimes my kids need a little more engagement.
One way to keep your kids entertained on a nice walk is to incorporate this fun free printable Spring Scavenger Hunt. It is not only perfect for walks but for backyards and parks as well.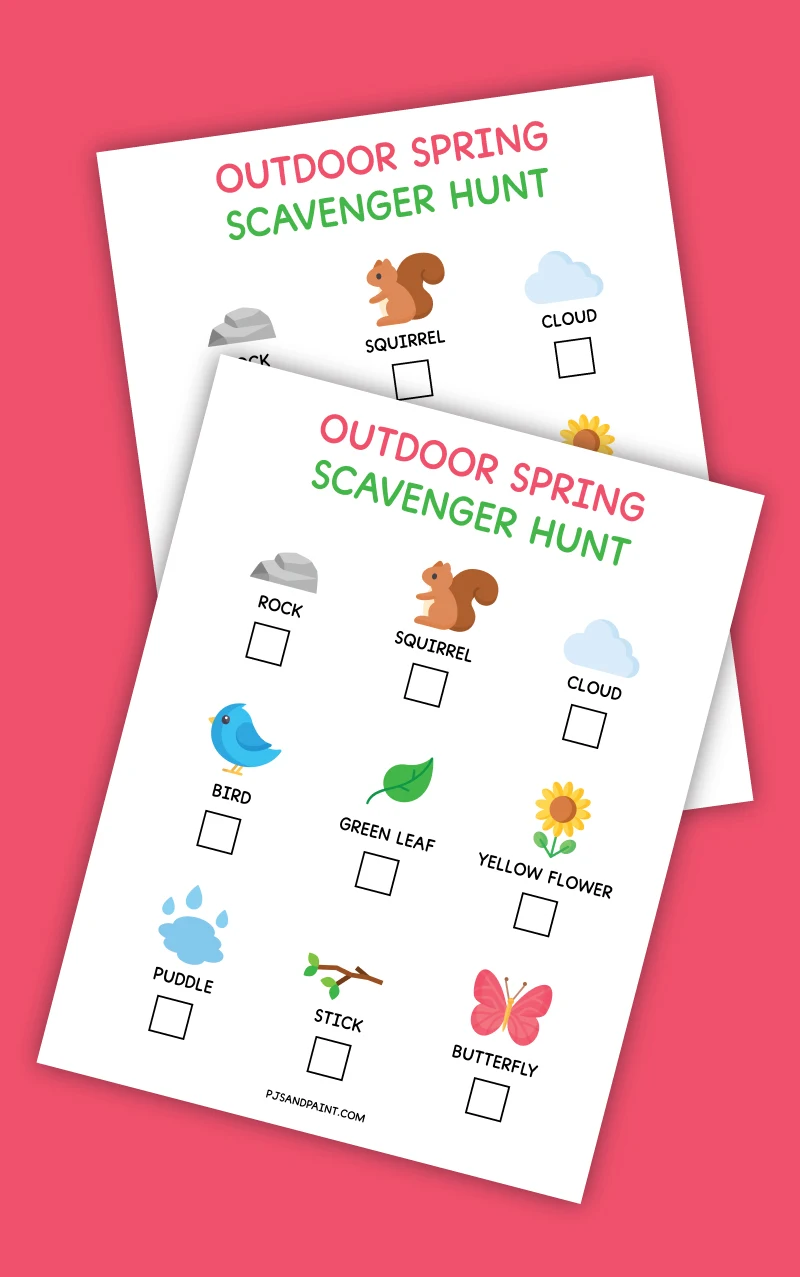 In this scavenger hunt, you will be searching for the following Spring themed items:
Rock
Squirrel
Cloud
Bird
Green leaf
Yellow flower
Puddle
Stick
Butterfly
Simply print out the scavenger hunt onto printer paper or cardstock. Bring along a pencil, crayon or marker and then every time you find an item on the list, check it off!
How to make the scavenger hunt reusable:
If you want to save some paper and reuse the scavenger hunt on multiple walks, you might want to consider laminating the printable.
This is the lamination machine that I currently use and I can highly recommend it! You can simply use a dry erase marker on the page and reuse over and over again!
Another cool option is this dry erase pocket. You can easily print out the scavenger hunt and then place it into the pocket. Use a dry erase marker and wipe clean after you're done.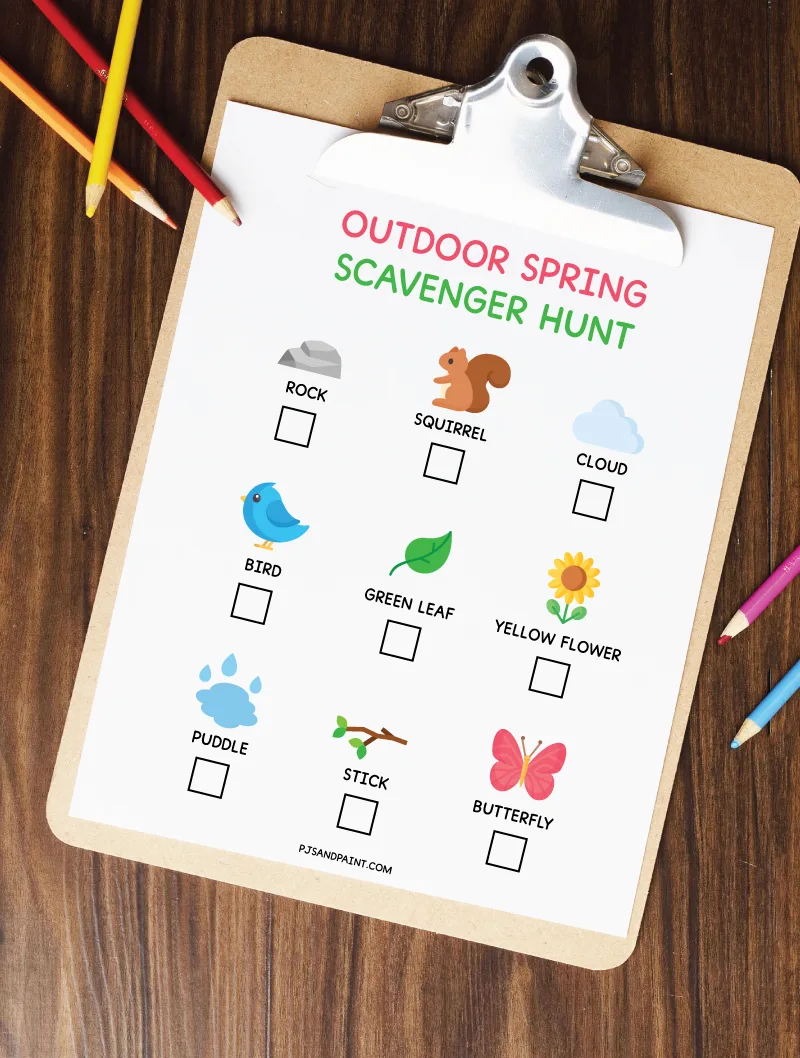 Free Printable Spring Scavenger Hunt
This scavenger hunt was designed to be printed onto a standard 8.5×11 inch white printer paper or cardstock. I would also recommend using a clipboard to make checking off all of the items a bit easier.
Feel free to download and print as many copies of the scavenger hunt as you would like. However, please do not edit or redistribute the files in any way.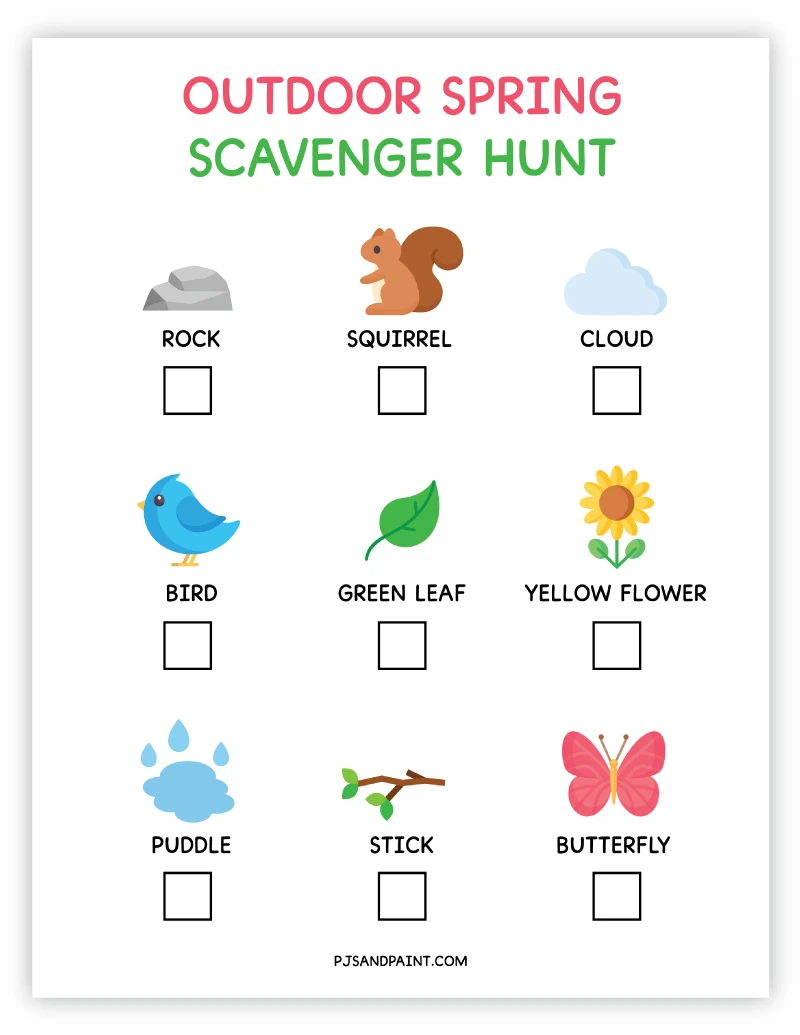 If you enjoyed this scavenger hunt, you might like to check out some of our other fun free printable scavenger hunts below:
Download Link:
Download the Spring Scavenger Hunt.