In this easy to follow tutorial, you will learn how to make this adorable toilet paper roll scarecrow craft using supplies that you probably already have lying around the house.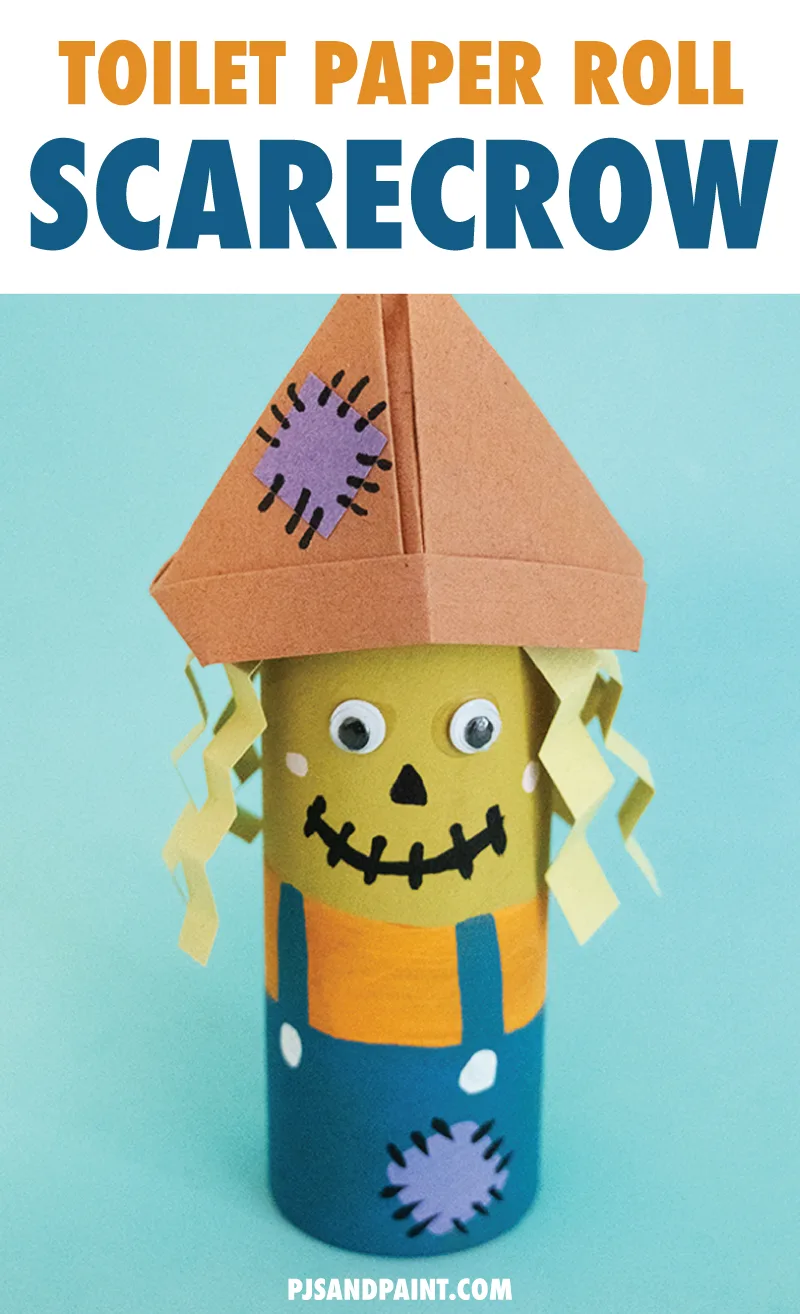 Disclaimer: This post may contain Amazon affiliate links. This means that at no additional cost to you, I may earn a small commission if you decide to make a purchase. For more information, please feel free to read the affiliate disclosure on our privacy policy page.
Fall is definitely my favorite season of the year. To start getting in the spirit, I wanted to share this adorable toilet paper roll scarecrow craft. It is a fun craft for kids or adults to work on and perfect for both at home or in a classroom setting.
Paper roll crafts are so much fun. There are an endless amount of creative projects you can create with them. The best part about them is that you can recycle some supplies you probably otherwise would have tossed in the trash.
With just a few materials you can create this super cute scarecrow craft that would be great to use as a toy to encourage imaginative play, or display around the house as some festive fall decor.
Supplies needed:
Paper roll (toilet paper roll, paper towel roll or these paper rolls from Amazon are great as well)
Paint (for mine I used yellow, orange, blue, white and purple acrylic paint)
Yellow, brown and purple construction paper
Scissors
Glue
Black Marker
How to make a paper roll scarecrow craft:
Step 1: Paint the paper roll.
First take a paper roll and paint the top portion yellow, the middle portion orange and the bottom section blue. Feel free to change up the colors and be as creative as you would like.
Also, if you aren't interested in the idea of reusing toilet paper rolls for sanitary reasons, I highly recommend these paper rolls from Amazon. They are excellent quality and perfect for crafting.
Once the orange portion of the paper roll has dried, add two blue lines to form the scrarecrow's overall straps. Next add in two white dots to create the buttons. You can also add a colored square on the side of the overalls to represent a fabric patch.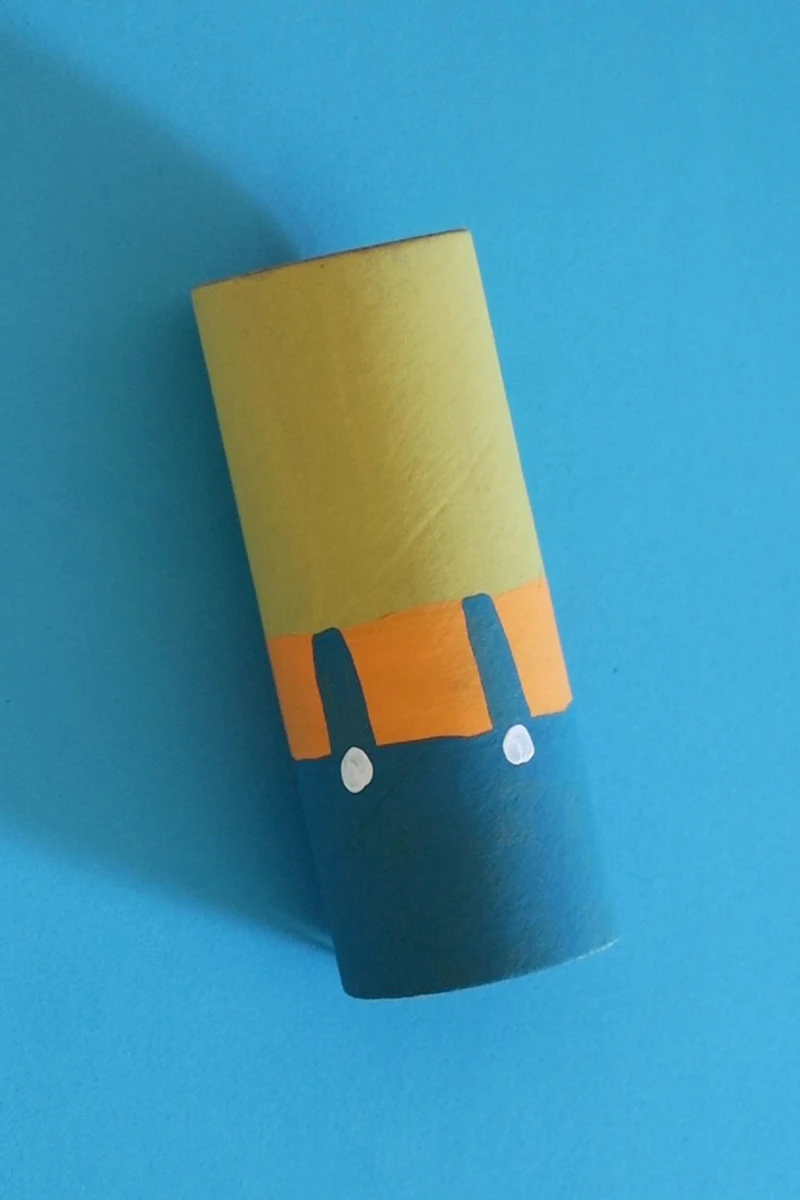 Step 2: Add in the details.
After all the paint has dried you can begin adding in some details with black marker. You can also use black paint if you would like. Draw on the scarecrow's mouth, nose and any details on the overalls you would like.
You can glue on some small googly eyes in this step as well.
Step 3: Create the scarecrow's hair.
Next, cut a few thin strips of yellow construction paper and begin folding back and forth. Unfold slightly to achieve this zig zag look. Glue the pieces of construction paper around the top of the paper roll to complete his hair.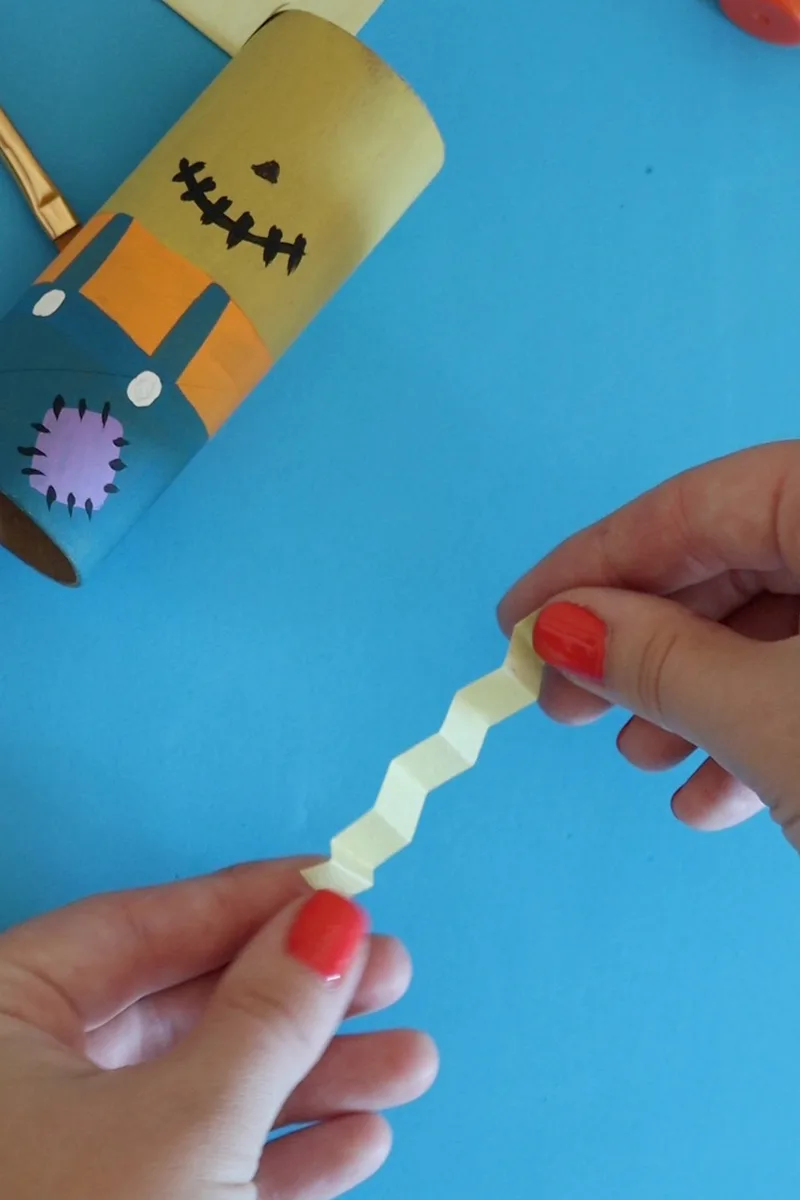 Step 4: Make the hat.
To make the hat, I essentially made a newspaper style hat our of construction paper. You can follow these simple steps below.
Cut a rectangle out of brown construction paper. Making sure the short end is at the top, fold it down in half.
Fold again from left to right and then unfold.
Take the right corner and fold into the center. Repeat on the left.
Take one bottom edge and fold up. Turn the hat over and repeat on the other side.
Open up the hat, and fold the two corner inward so that the hat can now stand on it's own.
Add a bit of glue along the top edge of the paper roll and place the hat on top to secure in place.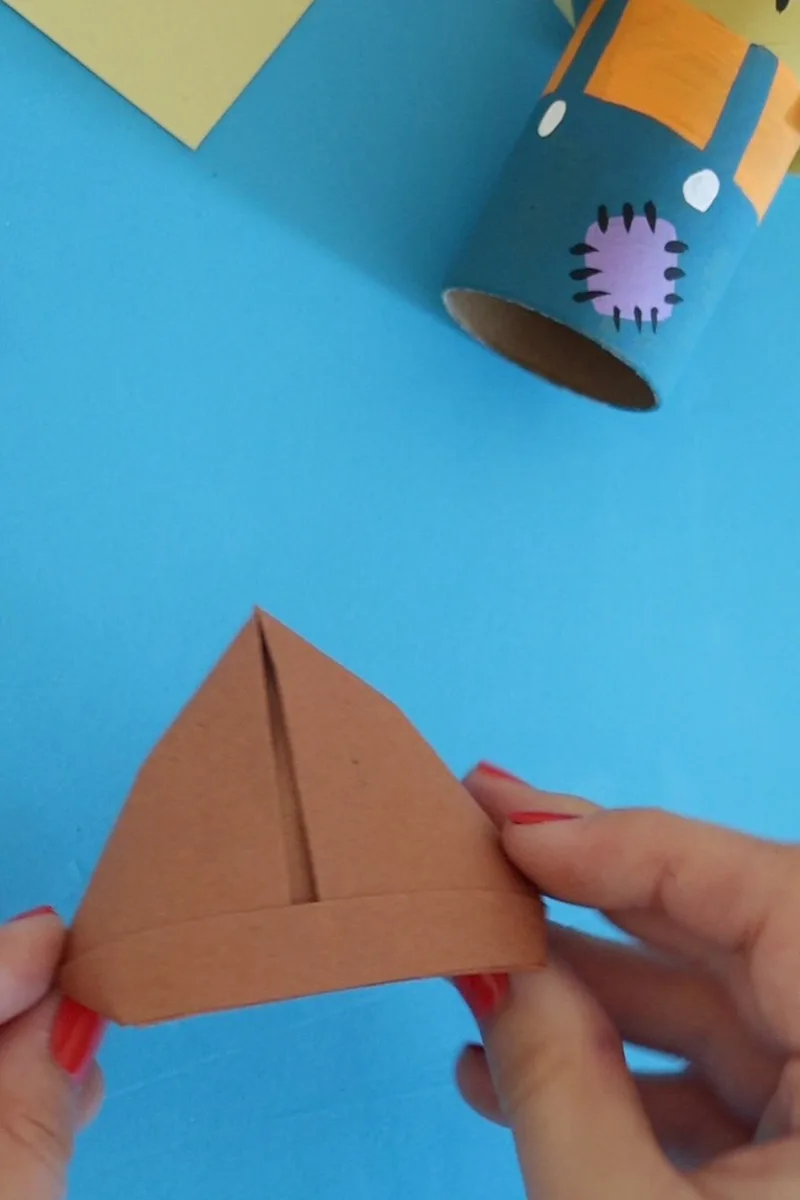 If you would like to add some fun details, you can glue on a construction paper patch onto the hat as well.
Now that you have completed the scarecrow craft you can use it to encourage imaginative play with your kids or use it as some fun fall festive decoration around the house or classroom.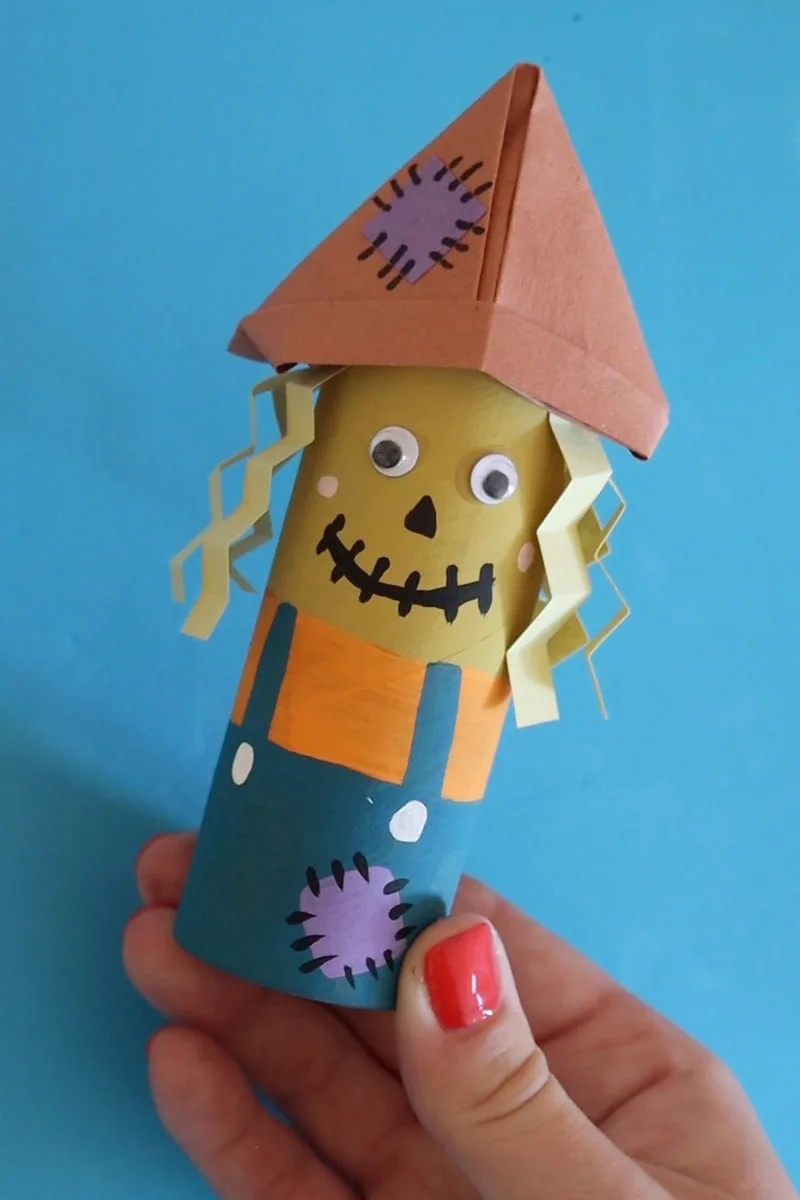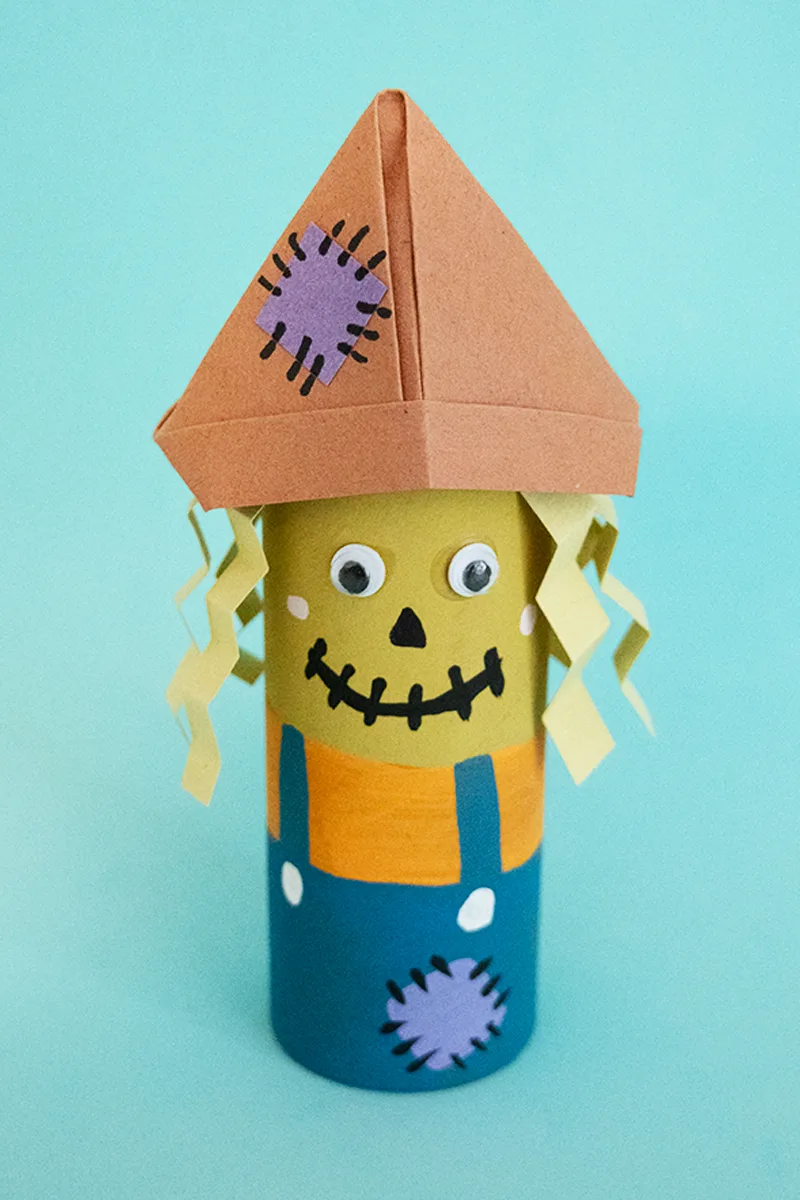 If you enjoyed this post, you might also like to check out some of our other fun toilet paper roll crafts below: