For those who need some encouragement to be on their best behavior for the remainder of the year, you might like to take advantage of our free printable Santa's Naughty List Certificate.
Whether your kids need a little reminder to behave a bit better at home, or would just like to use it as a gag gift for friends, family members or coworkers, this template is perfect for just that!
Be sure to also check out our free printable Nice List Certificate. Great for sending kids to reward their good behavior that they have been exhibiting this year, it will let them know they are doing a good job and Santa has taken notice.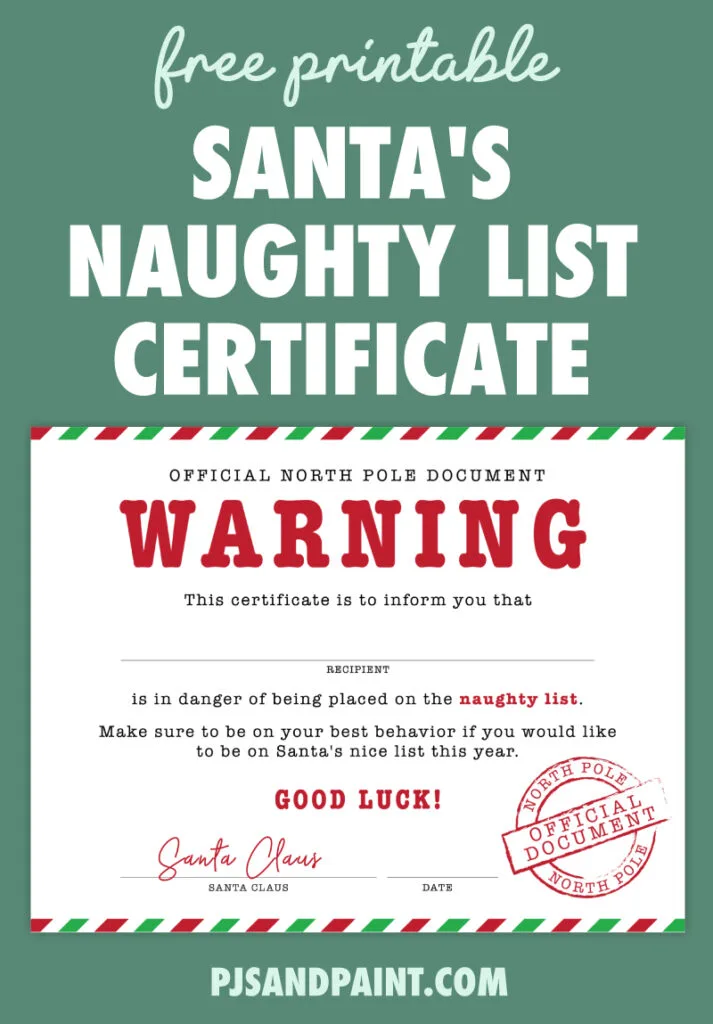 Disclaimer: As an Amazon Influencer, I earn from qualifying purchases. This means that at no additional cost to you, I may earn a small commission if you decide to make a purchase. For more information, please feel free to read the affiliate disclosure on our privacy policy page.
How to use the certificate:
First, print out the certificate onto white printer paper or cardstock. Next, write in the recipients name and fill out the date at the bottom.
The naughty list certificate is already signed by Santa and includes his official North Pole document stamp as well.
The certificate reads as follows:
Official North Pole Document
WARNING
This certificate is to inform you that
(Recipient Name)
Is in danger of being placed on the naughty list.
Make sure to be on you best behavior if you would like to be on Santa's nice list this year.
Good Luck!
Free Printable Santa's Naughty List Certificate
Do you know someone that has not been on their best behavior lately? If so, you might wish to incentivize them to act a little bit nicer! If that is the case, then this naughty list certificate might be just what you need.
This certificate serves as a gentle warning that Santa has been watching and that they should remember to be kind and listen to their parents and teachers if they want to be placed on the nice list this year.
This certificate would be a fun gag gift for friends, family or coworkers as well.
This certificate was designed to be printed onto a standard piece of white printer paper or cardstock. For the best results I would definitely recommend cardstock as it is thicker, more durable and looks a lot more professional.
This printable was created for personal use or classroom use only. You are not permitted to sell or redistribute the files in any way.
Know someone on the nice list? Check out some of our most popular Santa printables below:
By entering your email address you will be receiving the free digital file as well as subscribing to our weekly email newsletter. You may unsubscribe at any time.