Last Updated on
Valentine's Day is coming up quickly, and it's the perfect time to share love and appreciation for friends and family. Today, I'm excited to share this free printable folding heart card that I know you will love!
Thanks so much to Tommy John for providing this adorable folding heart card!
Disclaimer: This post may contain Amazon affiliate links. This means that at no extra cost to you, I may earn a small commission if you decide to make a purchase.
Want to plan an activity that will help your kids remember that Valentine's Day is about more than just getting candy and gifts? Set aside an hour at the end of the day to spend quality time together making family love cards. Afterwards, each family member can take turns presenting their cards to each other.
To get started, print out several of the foldable heart cards below. They are super easy to create and provide just enough space for writing or drawing a picture. Don't forget to print front-to-back to make sure that the pattern is on both sides.
Cozy up in your fave pajamas, gather around the table, and get crafting! You can also turn the activity into a fun pajama party and play some games while you're at it. These little moments of family bonding are the best part of celebrating any holiday!
Free Printable Folding Heart Card
Instructions:
First, print out the first page folding heart card pdf onto a standard 8.5×11 inch piece of paper. For the best results, I would highly recommending printing on white cardstock.
Next, put the page back into the printer and print out page two onto the back. Before moving forward, double check that the hearts on both the front and back of the page line up correctly.
Once printed, cut out the heart.
Note: The dotted lines on the pdf are cutting guidelines and the solid lines are where you should be folding.
Next, write your Valentine's Day message in the white space in the center of the heart.
Fold lines 1 and 2 towards the middle of the heart
TIP: You can score the fold lines with scissors for an easier fold.
Make the pouch by folding line 3 downwards. Fold down line 4 to close the envelope and then seal with a sticker. I think these heart stickers would be a great option!
Finally, give the heart card to someone special this Valentine's Day!
Download Link:
Click here to download the printable folding heart card.
Thanks again to Tommy John for providing this super cute folding heart card!
Looking for more fun free printables perfect for Valentine's Day? Be sure to check these out:
9 Free Printable Valentines for Kids:
All of these valentine's below are totally free to download and print today! From dinosaurs to race cars, fruit to donuts, I'm sure that you'll be able to find something that you and your kids will love putting together for your friends and family this Valentine's Day. Click here to read the full blog post and access the free printables.
Free Printable Valentine's Day Coupon Book:
Coupon books make great homemade gift idea and they can be totally personalized to fit whoever you are giving it to. Each page of the book has a blank space to write down a special experience or event that is redeemable by presenting the coupon to the gift giver.
This free printable Valentine's Day coupon book will make a wonderful personalized gift to give the loved ones in your life this February. Click here to read the full blog post and view the free download links.
Free Printable Valentine's Day Word Scramble:
This Valentine's Day word scramble features 12 love themed words to solve. There are both long and short words which makes it a great game for plenty of different age groups. Personally, I often find the shorter words harder to solve sometimes! View the full blog post and download links here.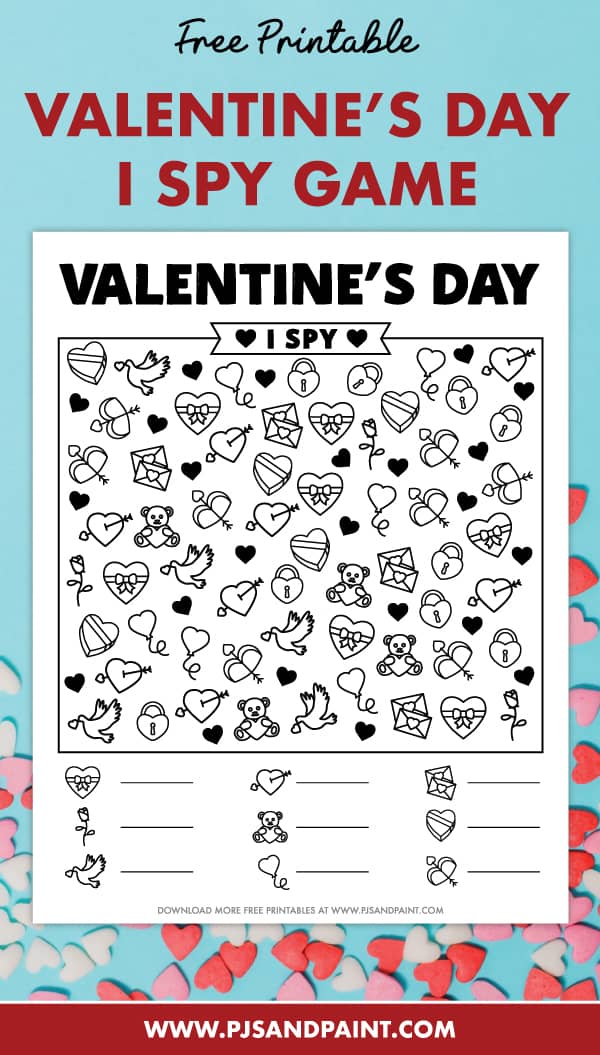 Valentine's Day I Spy – Free Printable Game:
To get your kids or students in the spirit of Valentine's Day this year, print out this fun I Spy game and start searching for 9 Valentine's Day themed pictures. Don't worry, I've included an answer key as well in case you get stumped!
Everyone will have a lot of fun trying to find all of the love themed pictures. Hearts, balloons, bow and arrows, teddy bears and more! Click here to view the full blog post and game download links.
Free Printable Valentine's Day Word Search:
Get in the loving Valentine's Day spirit with the fun free printable Valentine's Day word search game. Perfect for classroom parties, rainy day activities or any other time you need to keep those kiddos busy in a fun and educational way! Click here to read more.