If you're in need of a last minute Christmas gift, look no further! We've rounded up our top 11 last minute gifts that you can whip together in no time at all. The best part is that the majority of these ideas can be printed out right now! Now that's really, last minute!
Every year as the holiday season approaches, I write down a list of all of the friends and family members that I am planning on getting gifts for this year. This includes my immediate family, in-laws, extended family, cousins, friends, kids of friends etc.
What I'm trying to say is, it's usually a pretty long list. And from time to time, I forget someone. Hey, it happens. I'll blame it on mom brain. Getting up at 4am everyday to a screaming toddler makes your mind a little foggy sometimes!
But whatever the reason, sometimes a friend, family member or neighbor doesn't make it into my gift list. There has been more than one occasion in my adult life that I have had to scramble to figure out a gift at the very last minute.
Alternatively, you may be the most organized person when it comes to holiday planning. Anyone reading this right now who has spreadsheets and organization printouts, I'm talking to you! There still may come a time when a person you weren't expecting to, ends up giving you a gift.
It could be a neighbor, a friend of a friend, or the girl who walks your dog while you're at work. Whoever it may be, it's not a great feeling for either one of you if you don't have anything on hand to reciprocate.
You can avoid any awkward one sided gift exchanges by making sure you have a few of these last minute Christmas gifts on hand.
I had actually learned this trick from my mom. I remember one time a neighbor way down the block that our family wasn't particularly close to, rang the doorbell one evening around Christmas with a beautifully wrapped gift.
As soon as she walked up to the door, my mom ran up to her bedroom and brought down an already wrapped box of chocolates with a nice gift tag attached.
She wasn't expecting to receive a gift from this person, but she had a few ready to go gifts, for this very reason. This gift exchange always stuck in my mind and now I make sure to have a few generic gifts ready to go.
So that brings me to today's post, just in time for the holiday season. Here are 11 last minute Christmas gifts that you can put together quickly, without having them look like they were a last minute thought.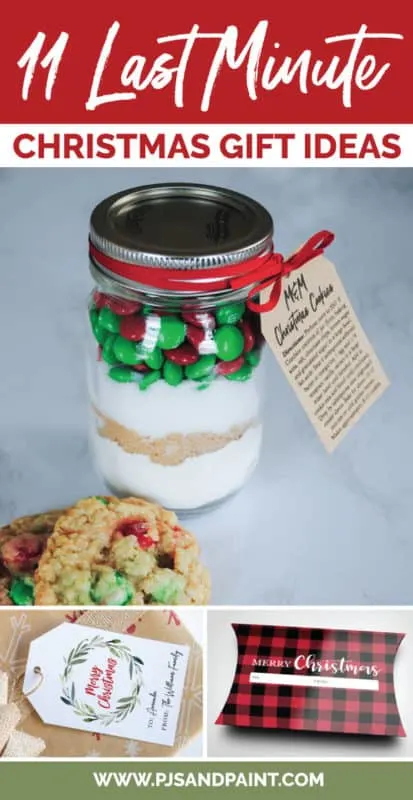 Disclaimer: This post contains Amazon affiliate links. This means that at no extra cost to you, I may earn a small commission if you decide to make a purchase.
11 Last Minute Christmas Gift Ideas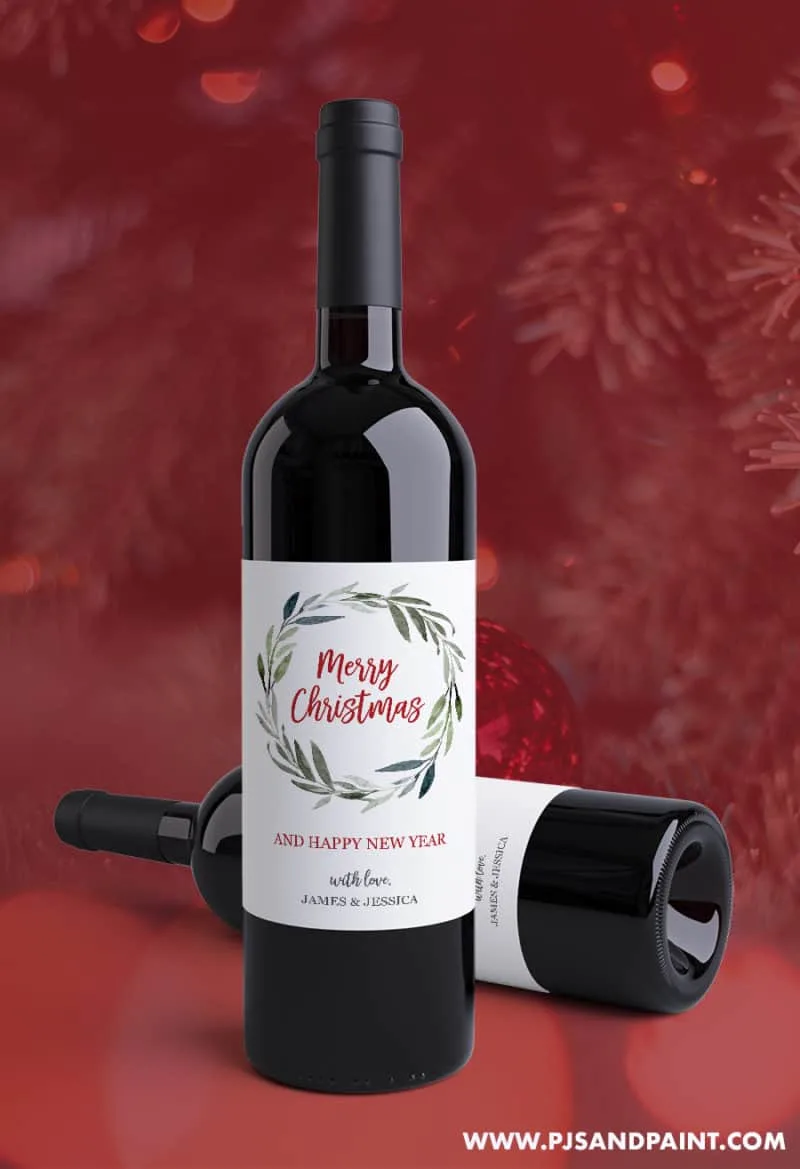 1. Christmas Wine Bottle Label
This gift would be especially perfect for any wine lovers you know. It is also a great idea for a host or hostess gift for any Christmas parties you may be attending this upcoming holiday season. Simply head to the store and pick up your favorite bottle of wine. These wine bottle labels are completely free to customize yourself and then print right at home.
You can either remove the original wine bottle label, or if you're in a big rush, just print and stick right on top of the current label. For the best quality though, I would highly recommend printing on white waterproof sticker paper. Click here to view the full blog post, instructions on how to remove a wine bottle label, and of course, the free printable, editable pdf!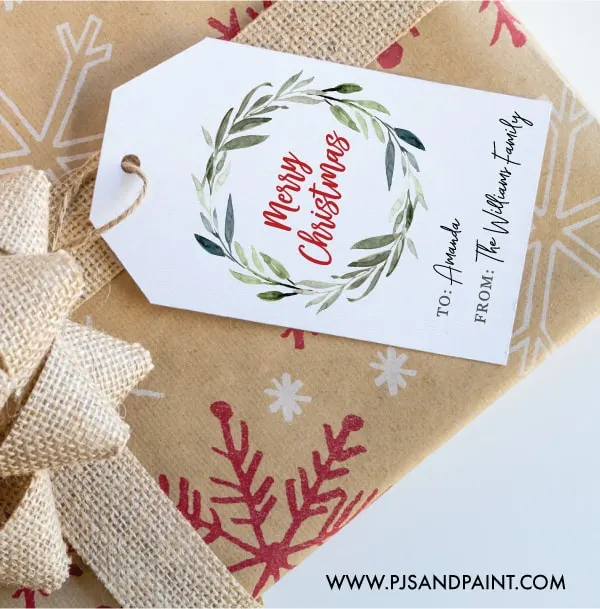 2. Merry Christmas Gift Tags
While these super cute Merry Christmas gift tags aren't exactly a gift on their own. Adding them to any item will personalize them in a way that doesn't make it seem like a last minute present.
Some quick and easy gifts you can jazz up with these free printable tags: Homemade (or store-bought!) cookies or pastries, a jar of local honey or a DIY bar of soap. The possibilities are truly endless. View the full blog post and download links here.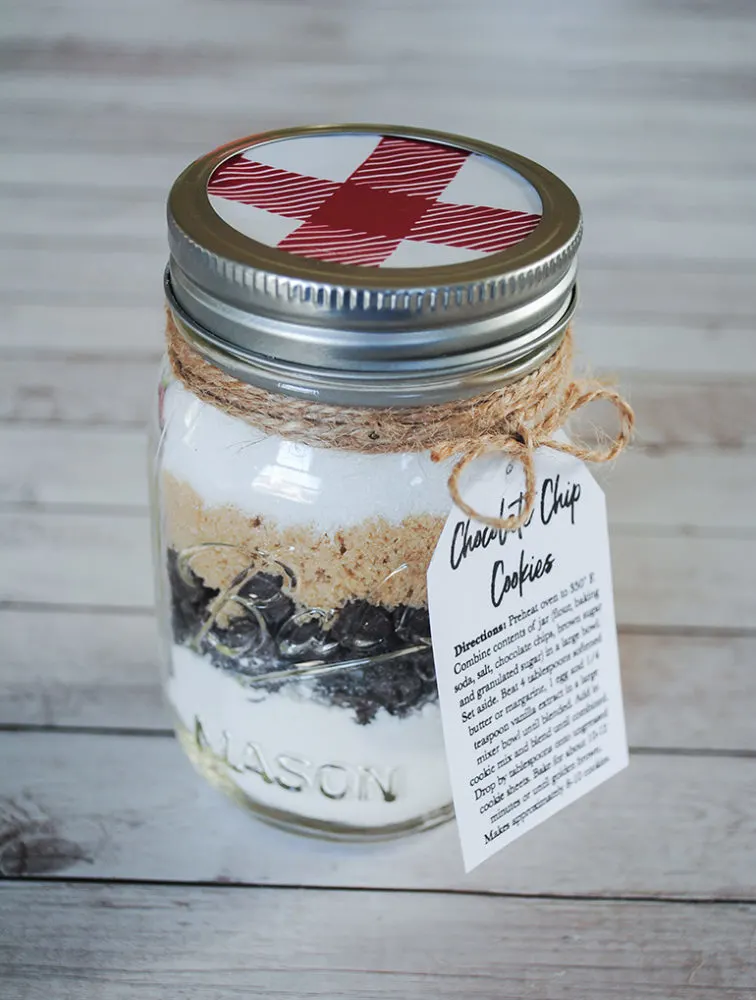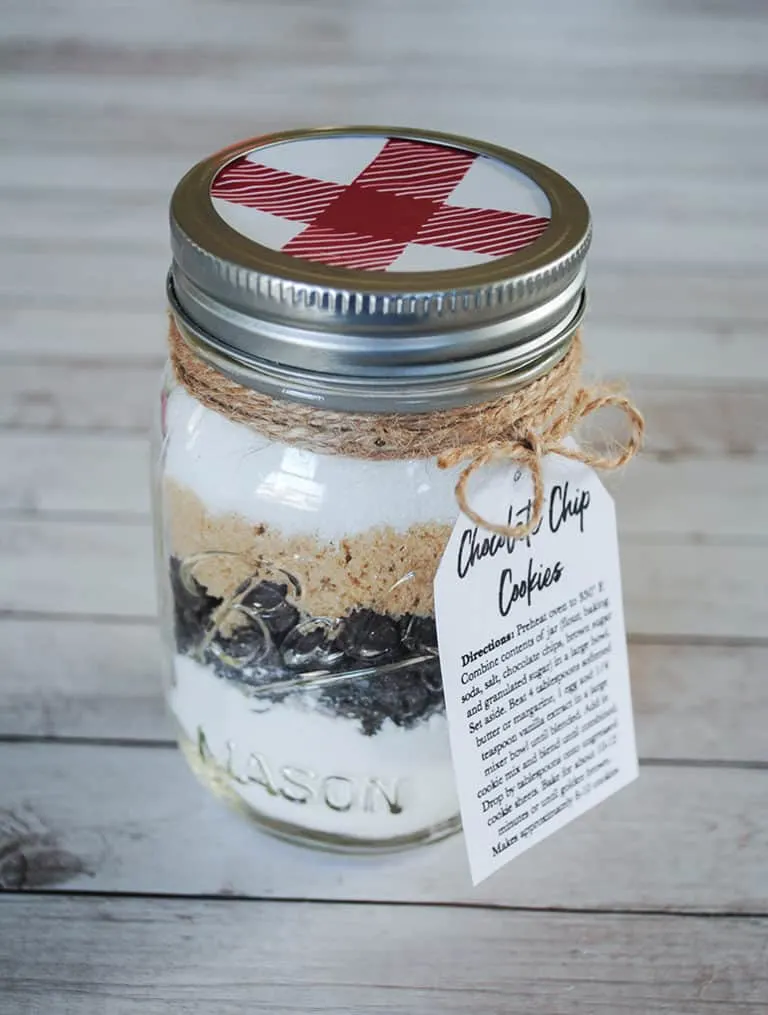 3. Chocolate Chip Mason Jar Cookie Kit
This is a personal favorite of mine! The best part about putting together these mason jar chocolate chip cookie kits is that you most likely have all of the supplies already in your kitchen cabinets. All you'll need is a mason jar and the free printable recipe tags to create this last minute gift for any cookie lovers on your Christmas list this year.
I've always thought edible gifts were such great ideas. A lot of the times, especially if you are not particularly close with the recipient, the gift you end up giving can go to waste. I know I have donated a bunch of gifts in the past from well meaning friends or co workers who wanted to give a gift but didn't know me that well. With edible gifts, you can be almost certain that they will be used! Click here to check out the full tutorial and printable recipe tags.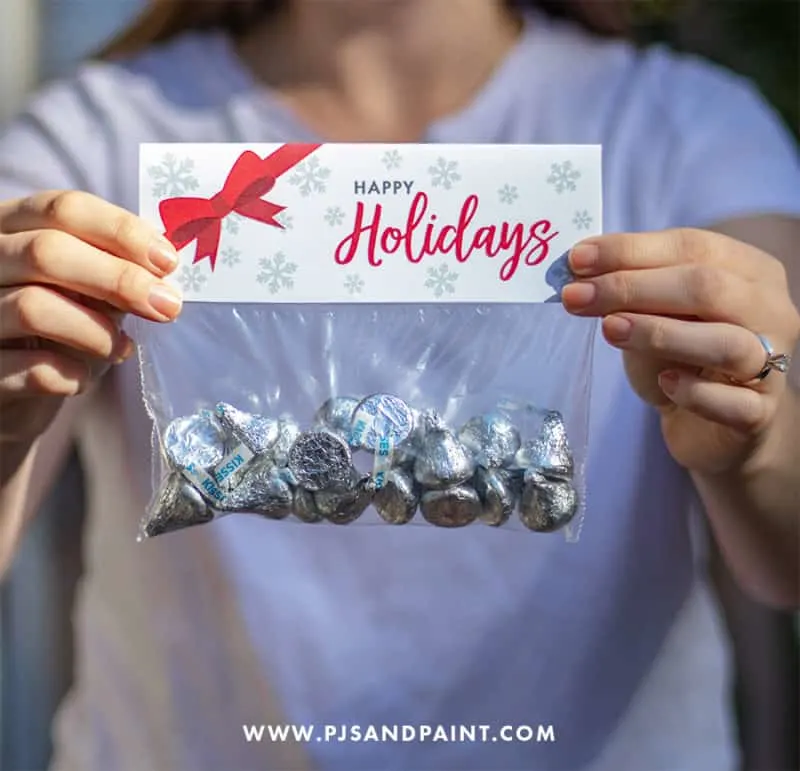 4. Holiday Bag Topper
Even though I titled this post "11 Last Minute Christmas Gifts," I wanted to include a few options that didn't necessarily say Merry Christmas. Maybe you want to give a little gift to a teacher or co worker, but aren't sure if they celebrate Christmas, this Happy Holiday Bag Topper would be a perfect small token of appreciation.
All you would need to do is print out the bag topper and then staple to the top of a plastic ziplock bag. Alternatively, you also could attach the bag topper to any type of bag. Even a brown paper bag might be nice for a unique kraft paper type look.
A few ideas of what you could put inside: Candy such as Hershey Kisses or M&Ms, small toys (little matchbox cars would be great for kids!), or homemade cookies etc. Visit this post to download the bag topper printable pdf.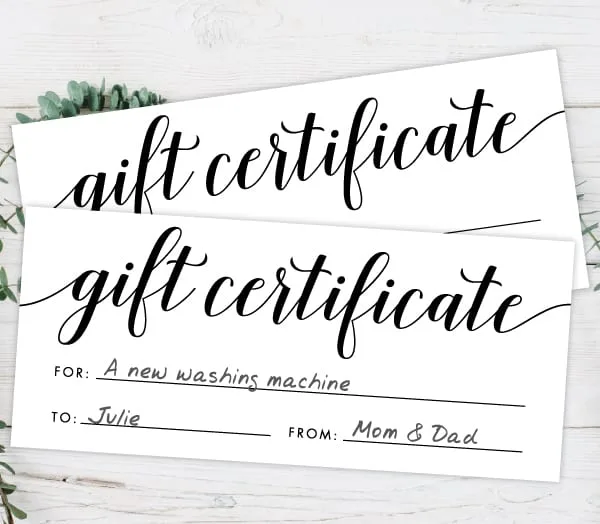 5. Printable Gift Certificate
Sometimes you want to give someone a gift that you can't necessarily get a traditional gift card for. For example, my parents wanted to buy my brother and his girlfriend a new refrigerator for their apartment. Since my parents wanted the two of them to pick out whichever fridge they liked best, they wanted to give them a generic gift certificate that said they would buy it for them.
This free printable gift certificate can be downloaded and printed at the very last minute, and still be a thoughtful gift for your friends or family members. Click here to view the full blog post.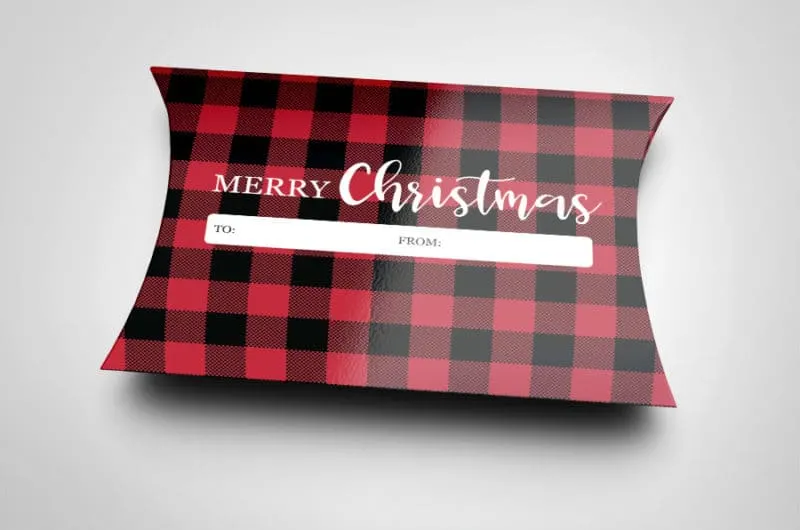 6. Printable Pillow Boxes
Speaking of gift certificates… sometimes you DO want to give a traditional gift card. I know I will absolutely never turn down a Target gift card! I've often heard that gift cards aren't a personalized gift. These free printable pillow boxes would be a great way to package a gift card so that you don't just have to put it in an envelope.
I've created pillow boxes in 3 unique designs, the buffalo plaid version you see here, one with a fun Christmas pattern, and one generic winter themed pillow box with snowflakes. All you would need to do is print the templates out on white cardstock, follow the very simple instructions on how to assemble, and then place your gift card right inside. Check out all three designs in this post here.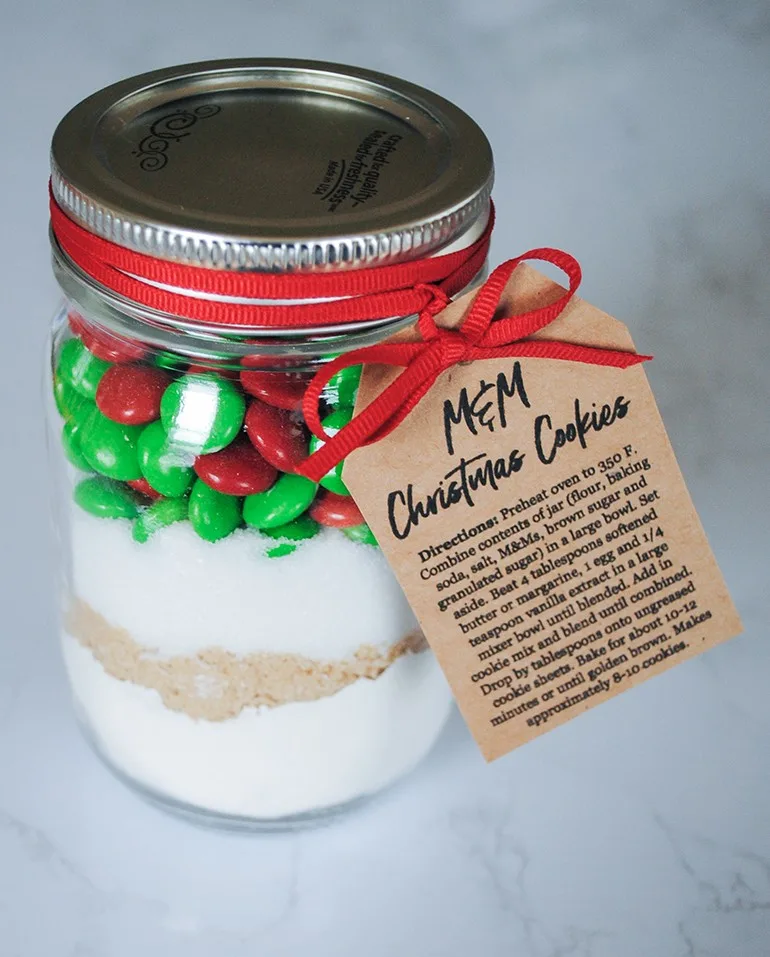 7. M&M Cookies Mason Jar Kit
This M&M cookie mason jar kit is the perfect holiday themed edible gift! This time of year, you can find red and green M&Ms at basically any store. Aside from that, you most likely have all of the ingredients already in your kitchen.
This idea would be perfect for friends, family, or even to keep on hand as a backup gift in the event someone you weren't expecting to ends up ringing your doorbell last minute with a gift in hand. Click here to read the full tutorial and download the free printable recipe tags.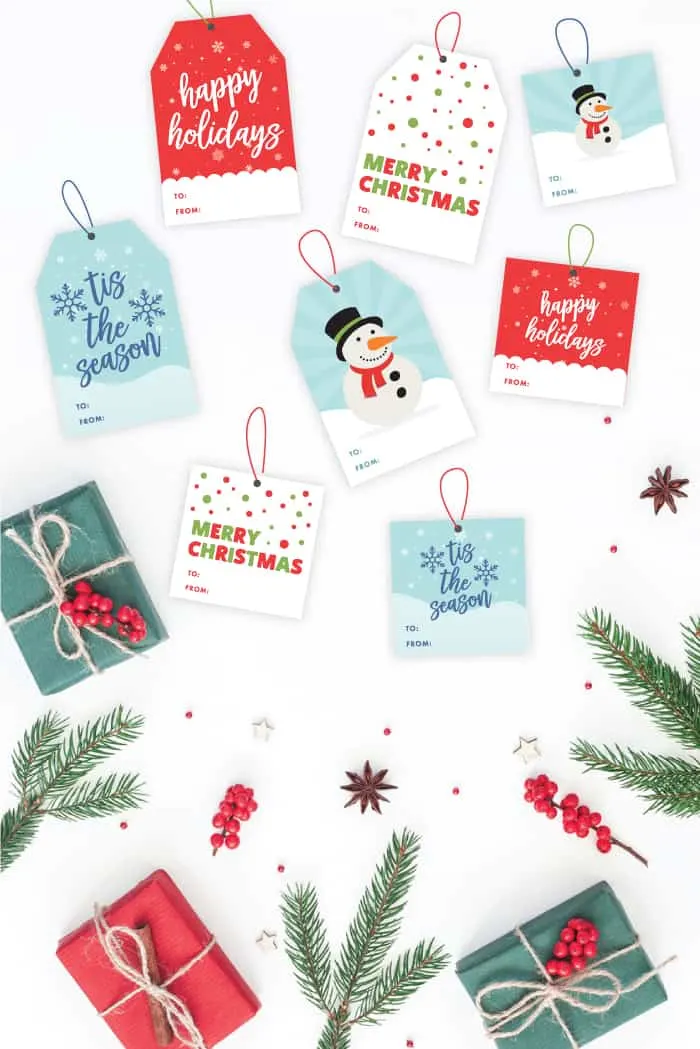 8. Holiday Gift Tags
Similar to the Merry Christmas gift tags above, these free printable holiday gift tags are a quick and easy way to personalize an otherwise generic gift. Featuring fun colorful designs in a variety of shapes and sizes, these tags would be perfect for those who celebrate Christmas, as well as those who don't.
View all of the free printable holiday gift tags in this post here.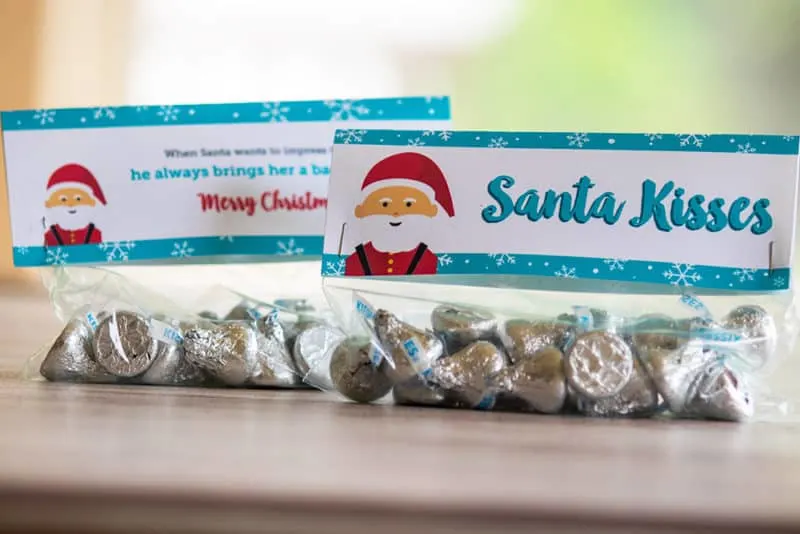 9. Santa Kisses Bag Topper
When Santa wants to impress the Mrs. he always gives her a bag of kisses! Great for holiday party favors, or a small treat to give to the kids in your life, these Santa kisses bag toppers will be a huge hit!
All you need to do is fill a ziplock bag with Hershey Kisses, print out the free bag topper, and staple on top. It really is that simple to put together a quick last minute gift. Click here to view the full blog post and download links.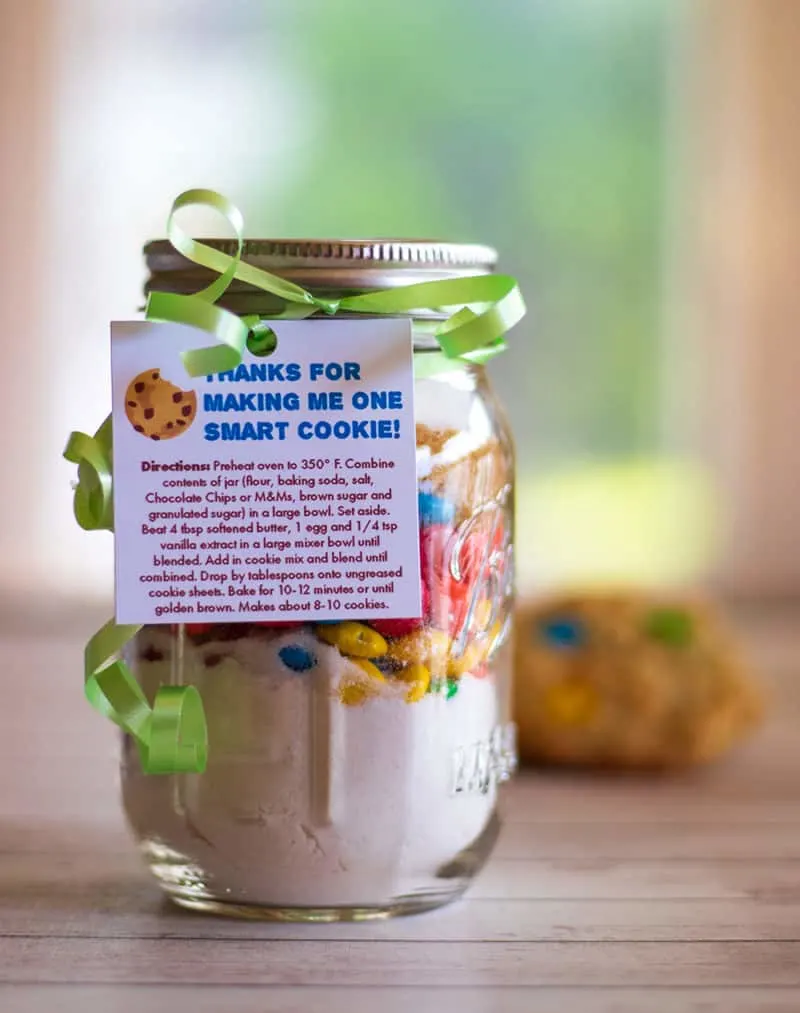 10. Smart Cookie Mason Jar Kit
I know, I know, you're probably thinking, another mason jar cookie kit? Yes! Because they are really such a fantastic gift! However this mason jar cookie kit is a little bit different. This gift is geared towards teachers. Lots of children want to give their favorite teacher a small present before the holiday break.
Featuring a free printable recipe tag that says "Thanks for making me a smart cookie," your child's teacher will definitely appreciate this thoughtful (and most importantly edible!) holiday gift. View the full tutorial and free printable recipe tags here.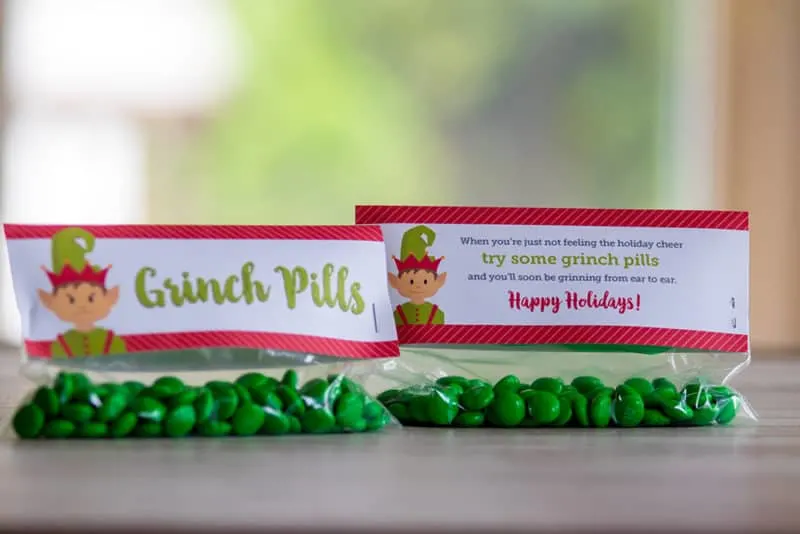 11. Grinch Pills Bag Topper
And finally, for the grinch in your life, free printable grinch pills bag toppers. This idea is perfect for co workers and friends that you would like to poke a little fun at!
Simply fill a ziplock bag with green M&Ms or any other type of green candy and staple the Grinch Pills bag topper on top. Hopefully eating these "grinch pills" will help get your friends or family more into the holiday spirit! Click here to view the full blog post and download links.
Which one of these were your favorite last minute Christmas gift?
Do you have any other gift ideas that you can put together super quick? I'd love to hear about them!