If you are not going to be home this Halloween night but would still like to leave candy out for the trick or treaters that come to your front door, this Free Printable Halloween Candy Sign is just what you need!
With this sign you can go out for the night and still make sure everyone gets more than enough candy and has a very happy Halloween!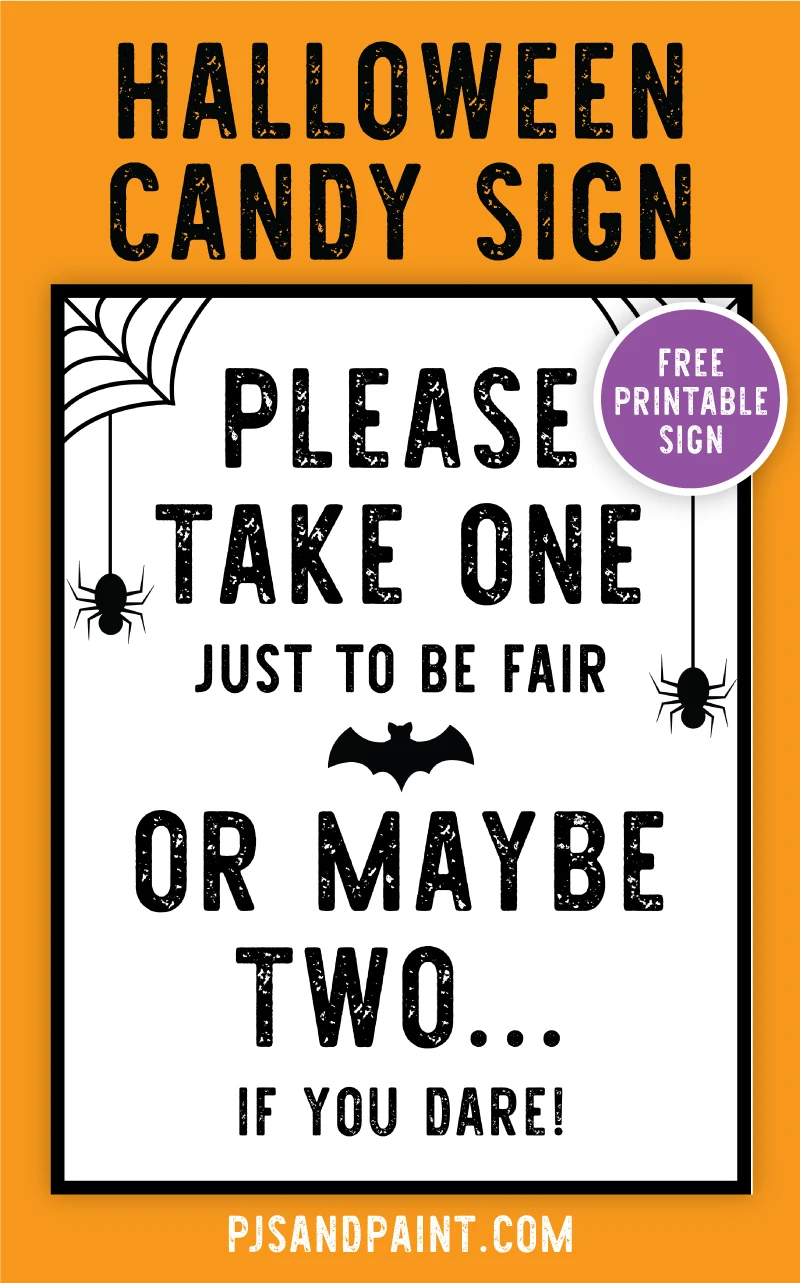 Disclaimer: This post may contain Amazon affiliate links. This means that at no extra cost to you, I may earn a small commission if you decide to make a purchase. For more information, please feel free to read the affiliate disclosure on our privacy policy page.
This Halloween candy sign (sometimes known as trick or treat signs) is available as an instant download. This means that you can print it out at the last minute right at home. Simply leave the cute sign nearby a big bowl of candy by the front door and trick or treaters will know that they can grab a piece of candy, or two!
The sign reads "Please take one, just to be fair. Or maybe two… if you dare!" It is a cute sign perfect for those who will not be home Halloween night. Or for those who just don't want to answer the door!
Why you might need a sign:
Personally, I enjoy opening the door on Halloween night and seeing all of the adorable trick or treaters standing on my front porch. However, as the night goes on and the kids get ready for bed, I'm not so exited about opening that door. My dog ends up barking, kids start crying, it is just not a good idea for anyone!
And that is why free printable Halloween candy signs are such a good idea. It is an easy way to ensure that you can still give candy out to all of the kids that come by, but not have to physically be there to hand it out.
It is also great for when you are out trick or treating with your own kids. Everyone gets to have a fun Halloween regardless of if you are home or not.
My only recommendation I like to tell people is to not put your favorite mixing bowl by the front door. A few years back I had what I assumed were some neighborhood kids who ended up not just taking a few pieces of candy but the whole bowl itself!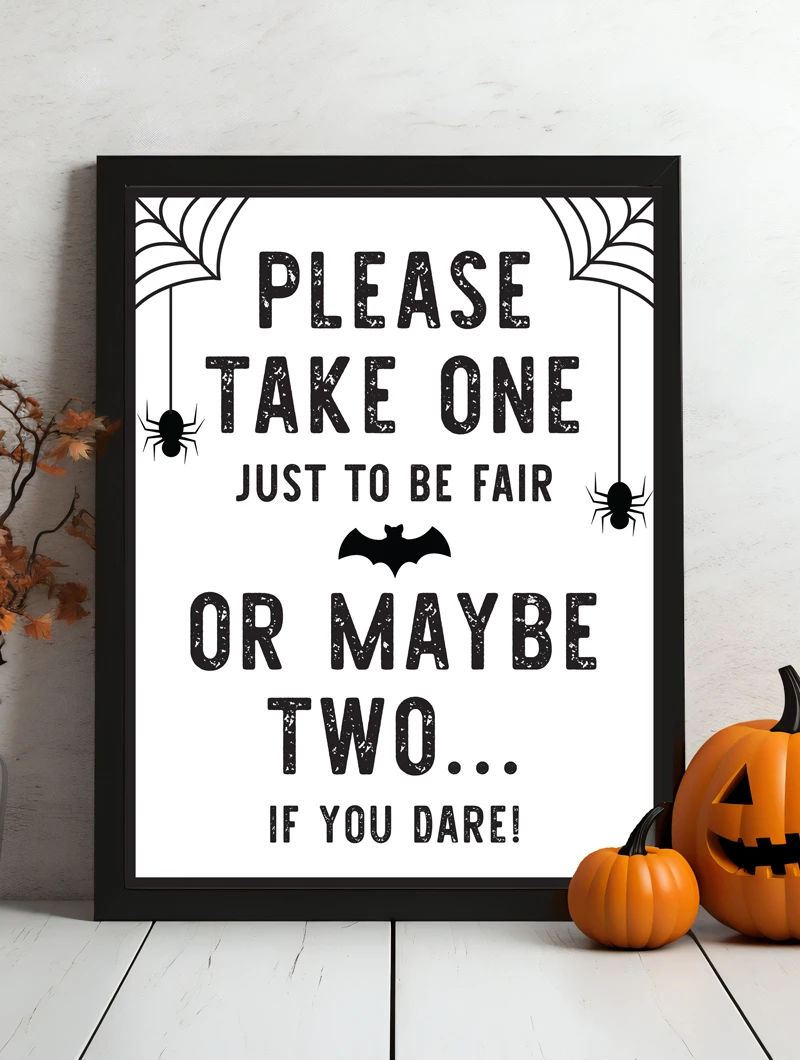 Free Printable Halloween Candy Sign | Please Take One
This free printable Halloween sign is available in pdf format as an instant download. It is designed to be printed onto 8.5×11 inch regular printer paper or white cardstock. One sign will print per page. For the best results, I would definitely recommend printing the sign out onto white cardstock if possible.
Please feel free to download and print as many copies of the sign as you need. However, please do not edit or redistribute the files in any way. This Halloween candy sign was create for personal use or classroom use only.
A few years back, I had actually created a different "Please Take One" Halloween sign. However, I thought it was definitely about time for an updated version. However, if you would like to see a different option with the same wording, you can find another free printable Halloween candy sign here. It is also a digital printable file that you can print at home or at a local printer.
What to do if it will be raining on Halloween night:
If it will be raining Halloween night, you want to reuse the sign next year or if you just want it to look a bit nicer, I would recommend laminating the signs. This is the lamination machine that I currently have in my home off and I can definitely tell you it gets a lot of use!
If you do not have a lamination machine, another great option would be to place it into a dry erase pocket or simply a standard sheet protector. It will be able to withstand getting a little wet from potential rain and look a little bit nicer.
Happy Halloween! I hope you all eat lots of pieces of candy and have a super fun and spooky night!
More Halloween Freebies:
Free Printable Halloween I Spy
Search for Halloween themed items and count them in this fun I spy game.
Free Printable Halloween Word Search
Get in the spooky spirit with this free printable Halloween word search. Featuring 15 Halloween themed words to find, kids and adults alike will have a great time working on this holiday activity.
Free Printable Halloween Word Scramble
This free printable Halloween word scramble featuring 12 spooky and scary Halloween themed words to unscramble.
Free Printable Halloween Maze
This free printable Halloween maze is an easy activity for younger kids to work on and get everyone into the Halloween spirit.
Free Printable Halloween Bingo Cards
This free printable Halloween bingo is a great game to play to get everyone into the spooky spirit! Kids and adults alike will have a blast playing this classic bingo game with a fun Halloween twist.
Free Printable Make Your Own Monster Kit (These are a great way to make some DIY Halloween party favors)
Whether you are planning a Halloween party or just want to give out something other than candy to trick or treaters this year, this make your own monster kitwill be a huge hit with the kids!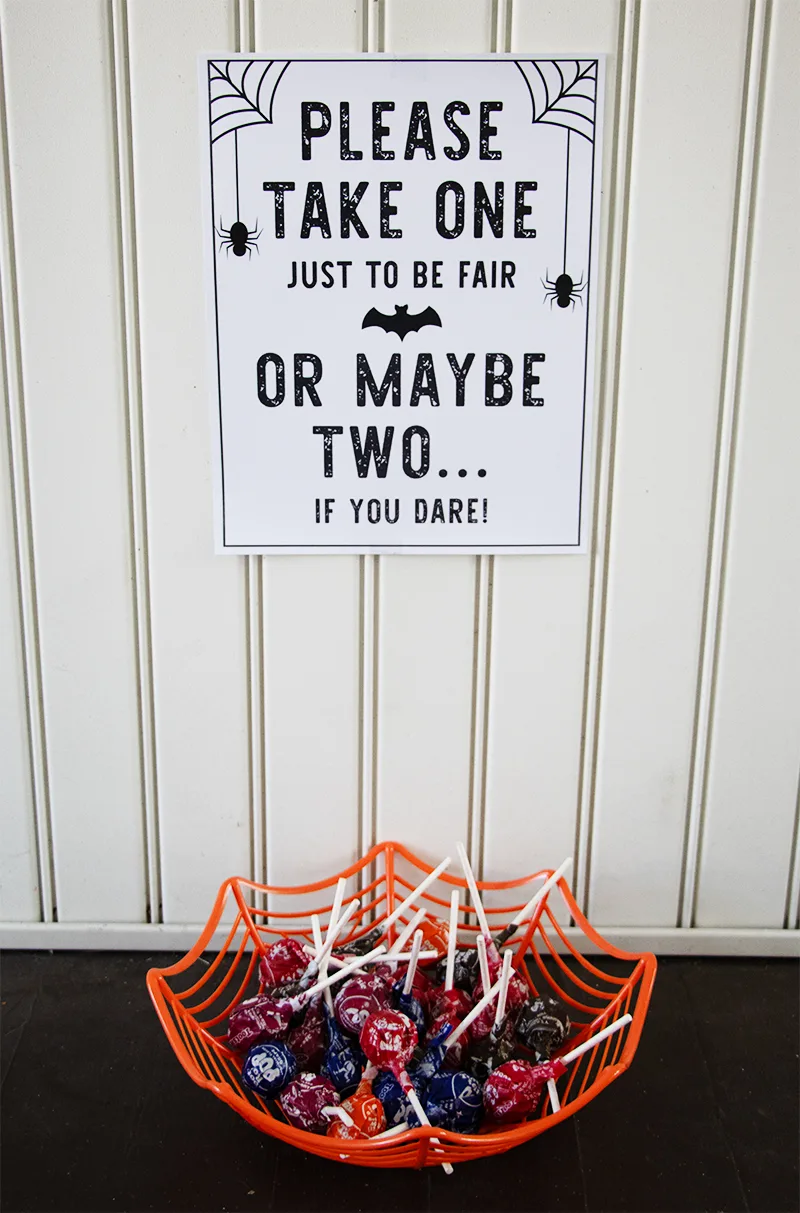 Favorite Printable Supplies:
These are a few of my favorite supplies that I use for printable games and activities: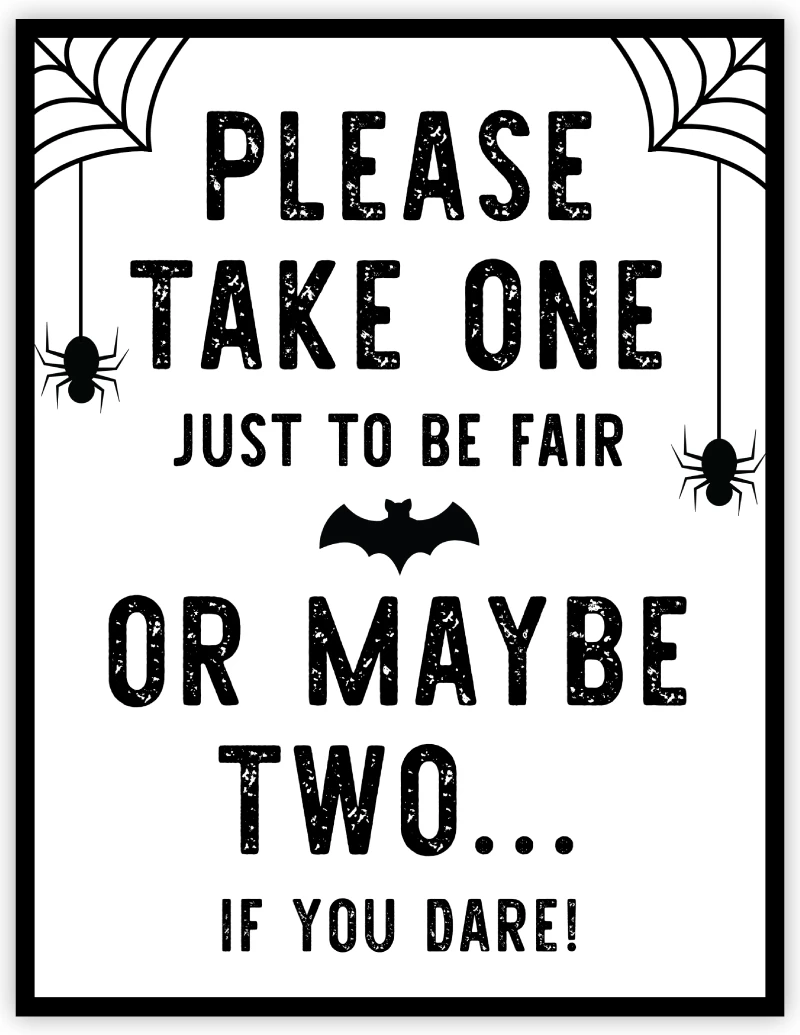 By entering your email address you will be receiving the free digital file as well as subscribing to our weekly email newsletter. You may unsubscribe at any time.